January 28, 2015
Luckily for me, my book travels in the next week are entirely in the South: Myrtle Beach, Charleston, Memphis and New Orleans, thus sparing me the turmoil Snowstorm Juno is causing for those in the Northeast. If you or a friend lives in these cities, see my speaking schedule below.
Luck was also for me, and perhaps those for attending my upcoming events. For though my publisher's warehouse is in NJ, seemingly making it impossible for the time being for me to order books for these programs, when I called the author event desk they were willing to send them with 2-day shipping for no extra cost.
Feb 2 - 1 pm. Jewish Grand Strand Reads lunch. Pine Lakes Country Club, Myrtle Beach SC
Feb 3 - 7 pm. Hadassah. Charleston JCC, 1645 Raoul Wallenberg Blvd, Charleston, SC 29407
Feb 4 - 7 pm. Temple Israel, 1376 E Massey Rd, Memphis, TN 38120
Feb 5 - 7 pm. New Orleans Hadassah and Shir Chadash Conservative Synagogue. 3737 W Esplanade Ave, Metairie, LA 70002

Posted by at 06:29 PM | Comments (0)
January 23, 2015
Now in Miami; unfortunately my luggage was last seen in Ft. Lauderdale. That's not the half of my troubles with Silver Airways. After waiting in Jacksonville airport 5 hours yesterday morning [in which time I could have driven to Tampa], my flight was cancelled and I was rebooked on an American Airlines flight to Miami, where I'm scheduled to speak tonight.
When Silver retrieved the luggage from the cancelled flight, my large suitcase wasn't there [and we're only talking about 3 suitcases on the little plane, not dozens]. Apparently it had been placed on a plane that went to Ft. Lauderdale in the interim. I told the agents immediately that they should send my suitcase to my Miami address, but when I called Silver at 6 pm to inquire, they had no record because neither of their Jacksonville agents had filled out a "lost luggage" form.
I did have my baggage receipt so after 45 minutes on hold, Cecilia said she'd look into things and call me back. The call came at 7 am this morning – my suitcase had been found IN TAMPA. I reiterated that I was in Miami and they agreed to fly it back to Ft. Lauderdale and have it delivered to me. Another call at 11 am from Ft. Lauderdale that my luggage was there and asking for my Miami address [which I had provided 5 times by now]. It's now 2 pm and still no suitcase, so I called corporate office and talked to someone who said she'd check into it and call me back. She also said I had to be present to receive it; they wouldn't leave it at the door. So instead of taking a walk to work off my stress and aggravation, I'm blogging instead.
Keep tuned. Will my luggage arrive in time or will I attend the Shabbat dinner in my honor in my flip-flops and casual traveling clothes? One thing did work out, sort of. Since I couldn't give my luncheon talk in person in Tampa, we had plenty of time in the Jacksonville airport for me to address the 60 women via skype. So not a total loss.

Posted by at 11:13 AM | Comments (0)
January 18, 2015
Those of you who live in Florida, visit Florida in the winter, or have friends who do - I'll be speaking about the research behind my newest novel ENCHANTRESS, particularly the amazing things I learned about ancient Jewish magic at various locations between Jan 21 and Feb 1. To get more details about each event, check my website speaking schedule.

Jan 21, 2015 - noon. Hadassah luncheon. Jacksonville Jewish Center. 3662 Crown Point Road, Jacksonville, FL 32257.
Jan 21 - 7 pm. Jacksonville Jewish Center. 3662 Crown Point Road, Jacksonville, FL 32257.
Jan 22 - noon. Congregation Beth Israel. 1115 Del Webb Blvd E, Sun City Center, FL 33573
Jan 23-24. Scholar weekend at Beth Shmuel. 1700 Michigan Ave.
Miami Beach, FL 33139.
Jan 24 - noon. Shabbat lunch, Temple Beth Am. 7205 Royal Palm Blvd, Margate, FL 33063
Jan 25 - 10 am. Temple Israel. 1901 North Flagler Drive
West Palm Beach, FL 33407
Jan 25 - 2pm. Temple Beth Am. 2250 Central Blvd, Jupiter, FL 33458
Jan 26 - 1:30 pm. Temple Emanu-El. 190 N County Road, Palm Beach, FL 33480
Jan 26 - 7 pm. Cong Kol Tikvah, 6750 N. University Drive, Parkland, FL 33067
Jan 27 - 1 pm. Na'Amat Women Century Pines Jewish Center, 1200 SW 136th Ave, Pembroke Pines, FL
Jan 27 - 7 pm. Miami Beach JCC, 4221 Pine Tree Dr, FL 33140
Jan 28 - 1:30 pm. Temple Sinai, 2475 W Atlantic Ave, Delray Beach, FL 33445
Jan 29 - 7 pm. Temple Torah Emet. 8600 Jog Road, Boynton Beach, FL 33472.
Jan 30-31. Sisterhood Shabbat. Congregation B'nai Torah, 6261 SW 18th St, Boca Raton FL 33433
Feb 1 - 10am. Temple Beth Am. 5950 SW 88th St, Pinecrest/Miami FL 33156

Posted by at 12:25 PM | Comments (0)
January 15, 2015
I spent the last week recovering from nasty cold that I picked up on a cruise vacation with my family, but that didn't stop me from doing 4 local speaking events in Huntington Beach, Santa Ana, Thousand Oaks, and Westwood CA. At the same time, I struggled to finalize the 3-week Florida and SE US book tour that has me flying to Jacksonville Tuesday at 6 am. That means making sure I confirm each event and have contact info for all the organizers.
The importance of this was brought home when my car [a 1994 Honda Civic] overheated only a few miles from the Thousand Oaks synagogue. I pulled off the 101 into a conveniently located nearby Marriott Inn, where I used their business center computer to find an email with the Sisterhood president's cell number while awaiting the AAA tow truck. She, of course, was worried why I was late and quite relieved to hear from me.
Things turned out pretty well, considering I'd broken down 45 miles from my house. With over 50 women waiting for me, and my car getting towed to a mechanic only 5 minutes away, the Sisterhood prez picked me up and drove me [plus 3 boxes of books] to the synagogue. I gave an excellent talk to a very appreciative audience, sold a goodly number of books, and by the time I finished, my husband had arrived to take me home.
The next morning the mechanic called with the "good" news that my radiator had a leak, but there was no damage to the engine. Relieved that my beloved car only needed a new radiator and some hoses [which wasn't surprising considering they were the original 20 year-old parts] I got it fixed and had a friend drive me out there to pick it up this morning.

Posted by at 07:39 PM | Comments (0)
January 06, 2015
Goodreads has an interesting feature called My Year in Books. The result is that I read 36 books in 2014, which is pretty amazing considering I was busy editing or promoting ENCHANTRESS for most of the year.
When it comes to my ratings: 9 got 5 stars, 13 got 4 stars, 10 got 3 stars, and 2 got 2 stars. I left one unrated since there were parts I liked and other parts I didn't.
As for genre: 10 had Jewish content, 11 were historical fiction, 8 non-fiction, and 5 SciFi. Two books were so uninteresting that I didn't finish them.
Longest book was The Golem and the Jinni. Shortest was Jewish Wit and Wisdom. Those who are members of Goodreads can see all the details at this link.

Posted by at 02:33 PM | Comments (0)
January 04, 2015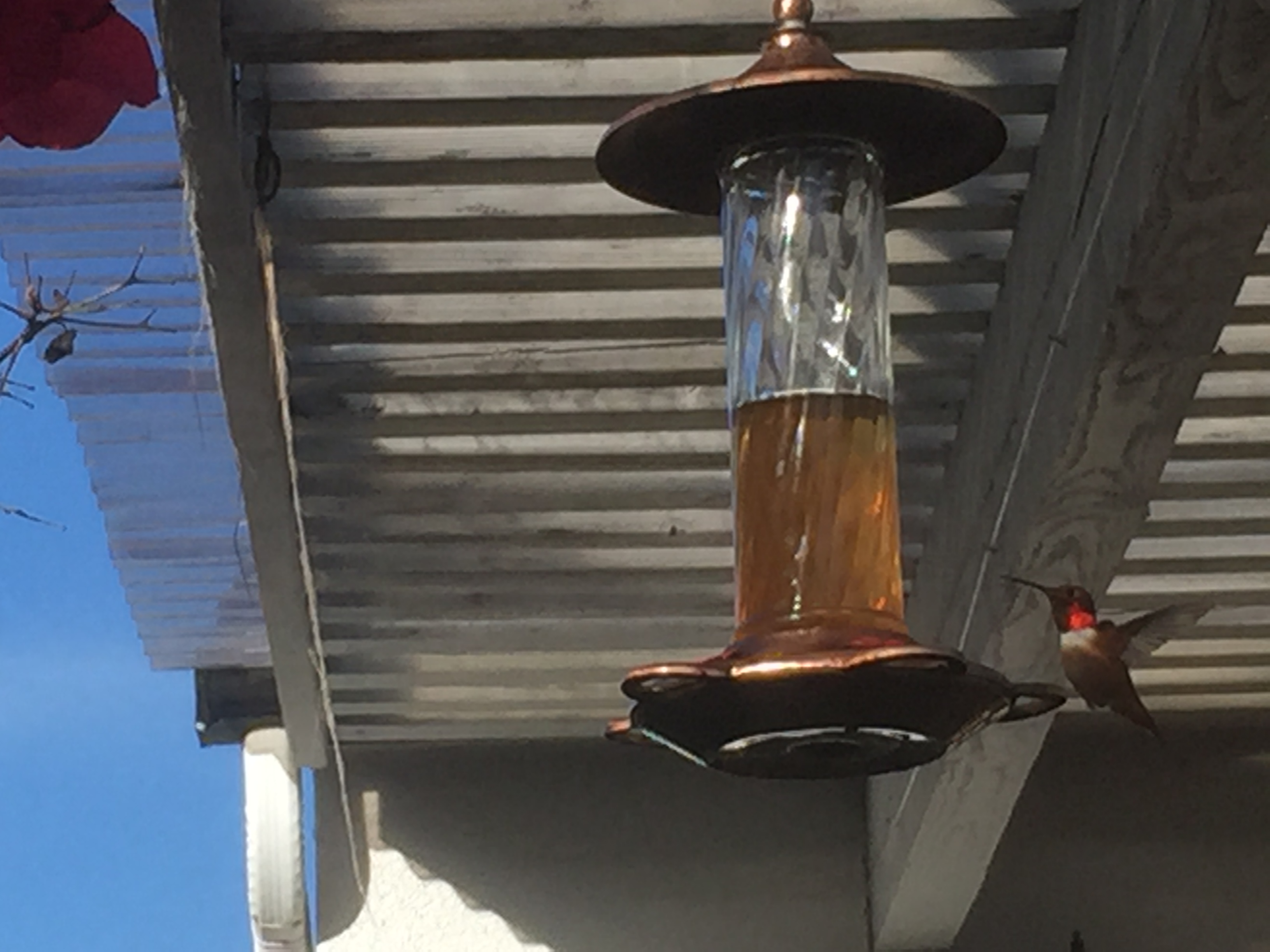 Here's a shot of one of the many hummingbirds who swoop and click and feed in our patio. Careful viewers will note a red bougainvillea bract in the upper left; between that to attract them and the feeder to nourish them, it's hummingbird city out there. I can believe I got this shot with an iPhone.

Posted by at 03:45 PM | Comments (1)
January 01, 2015
Now that ENCHANTRESS has been out for 4 months, people who've read it are starting to send me questions. One I've heard often enough that I thought I'd address it in my blog can be summed up as "When you mention that Rava had a small penis and a small penis is better, was that taken from the Talmud, and if so, where?"
I'll address the second question first. I checked quite a few websites about ancient Greek and Roman art, all of which deduced that a small penis was the ideal size back then. To quote Straightdope.com, "From this vast array of XXX-rated artwork we can make a few deductions about Greek aesthetic preferences, genitaliawise …(1) Long, thick penises were considered--at least in the highbrow view -- grotesque, comic, or both and were usually found on satyrs, ugly old men, and barbarians. (2) The ideal penis was small and thin" … A passage from Aristophanes sums up the most desirable masculine features: "a gleaming chest, bright skin, broad shoulders, strong buttocks, and a little prick."
According to Daniel Boyarin in Carnal Israel, the Hellenistic Jews of Israel apparently shared this view, as we see in a passage from the Babylonian Talmud [Bava Metzia 84a], "R. Yohanan said: The member of R. Ishmael son of R. Jose was as a wineskin of nine kavs. The member of R. Eleazar son of R. Shimon was as a wineskin of seven kavs. R. Papa said: R. Yohanan's member was as a wineskin of five kavs; others say, three kavs … R. Yohanan said: I am the only one remaining of Jerusalem's men of outstanding beauty." That is, the only rabbi of outstanding beauty is the one with the smallest penis.
To answer the question about Rava, I turn to Shabbat 41a. Here the Talmud, while discussing the sin a man commits in touching his penis, asks if it is sinful to merely place his hand over his "lower face" [presumably out of modesty] when immersing. After some zealous rabbis state that covering ones penis is tantamount to denying his brit milah, the Gemara points out that Rava would bend modestly going both to and from the river, while Zeira stands tall both directions to show pride in his milah. Noting that Rava means 'big' and Zeira means 'little' in Aramaic, and that the rabbinic literature utilizes many word plays, I interpreted this to imply that Rava hoped to hide his large member and Zeira wanted to display his small one.

Posted by at 10:42 AM | Comments (0)
December 30, 2014
Earlier this month a miniseries based on Anita Diamant's The Red Tent could be seen on Lifetime Channel. For more about this historical novel based on the story of Dina in Genesis see this article from JTA.
Here's a short excerpt. "In the 17 years since The Red Tent was published, many other novels based on biblical characters have hit the market. Most of them … are by Christian authors and geared toward Christian audiences. Notable exceptions include Maggie Anton's Talmud-inspired Rashi's Daughters trilogy and recently published Rav Hisda's Daughter books"
Indeed, I owe Anita Diamant a huge debt of gratitude for paying the way. When I realized that I would have to self-publish the first volume of Rashi's Daughters if I wanted its pub date to coincide with Rashi's 900th yartzeit, I looked to Red Tent as a template. Apparently the novel sold poorly at first, and even Jewish newspapers declined to review it. When Diamant learned that her publisher planned to pulp the unsold copies, she took them on a whirlwind speaking tour of every Jewish reading group, book fair, and women's organization she could find until the buzz turned the Red Tent into a bestseller. I knew Rashi's Daughters would appeal to that same niche audience and because of her example, I knew where to find them and how to reach them.

Posted by at 07:59 PM | Comments (1)
December 19, 2014
In a few days I'll be on a well-deserved vacation, cruising the Pacific Ocean with my family. So I'm posting a lot this week of make up for previous and next week's lack of entries.
Tonight is fourth day of Hanukah. To get you in the mood, here are Rabbi Jason's best Hanukah videos of 2014. Enjoy. My one complaint is that every group here seems to be all male. Don't any women or mixed groups sing Hanukah songs? Or is this an Orthodox thing against women's voices?

Posted by at 01:03 PM | Comments (0)
December 17, 2014
Delightful [and educational] Gilbert & Sullivan parody for Bible geeks. I especially like the reference to mumbling with photo of Babylonian incantation bowl.
Posted by at 10:36 AM | Comments (0)
December 15, 2014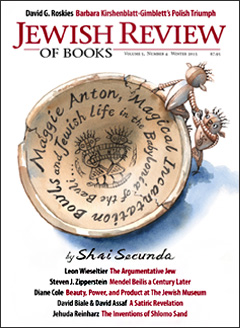 Yes, that's my name on the cover of Jewish Review of Books.
What a Hanukah present!

Posted by at 11:06 PM | Comments (0)
This week I learned about a fantastic [and lengthy] article from an actual Talmud scholar, Shai Secunda of Hebrew Univ of Jerusalem, in the Jewish Review of Books that includes a wonderful review of ENCHANTRESS. Below are a few quotes to whet your appetite to read the entire article, which will also teach you a bit about magic practiced by Jews who produced the Talmud.
"Anton paints a fairly accurate picture of the lightning-fast dialectical give-and-take of the rabbinic study hall, and the sights, sounds, and smells of Babylonian Jewish life in late antiquity. In the first volume we learn a good deal about the making of Mesopotamian beer, and we see how magic bowls were produced, from writing to home installation …
"Meticulously researched, Anton has quite remarkably pieced together an entire life from stray talmudic dicta, which, as she cleverly notes in an afterword, were never intended to directly reflect historical truth: 'The Talmud is clearly not an historical text; some might go so far as to call it historical fiction.' In Rav Hisda's Daughter, Anton has produced a historical synthesis that few talmudists could hope to achieve—were they even tempted to do so …
"By imagining the female relatives of prominent talmudic sages publicly producing magic bowls and other sorceries, Anton locates the magical arts at the very center of classical Jewish life. Unlike historical romances in which sex is breathlessly subversive and sorcery shocks, Anton keeps her sex scenes light and playful and marries traditional rabbinic piety with ancient sorcery. This is what makes Rav Hisda's Daughter so surprising and, one might argue, so compelling. The relentlessly undramatic nature of the series is its genius."
Meticulously researched, remarkably pieced together, a historical synthesis that few talmudists could hope to achieve, compelling, genius – this is high praise indeed. And even more so from one of the foremost experts on the interface between the Babylonian Talmud and the surrounding Persian culture.
Posted by at 10:31 PM | Comments (2)