April 15, 2017
After posting about placing an orange on the Seder plate, I learned that there are plenty more non-traditional items that one might want to use in addition to the orange. An article in the Jerusalem Post in 2011 mentions olives and an artichoke.
In 2008, Jewish Voice for Peace promoted putting an olive on the seder plate as part of its Trees of Reconciliation project, which sought to donate 3,000 olive saplings to Palestinian farmers to replant trees torn down to make room for Jewish settlements in the West Bank. After that, olives started showing up on Seder plates as a call for peace between Israelis and Palestinians. The Shalom Center recommended that celebrants include olives "Because for millennia the olive branch has been the symbol of peace, and we seek to make peace where there has been war." Why an artichoke? Rabbi Geela Rayzel Raphael suggested this prickly vegetable with the soft heart for the interfaith-friendly Seder plate. "Like the artichoke, which has thistles protecting its heart, the Jewish people have been thorny about this question of interfaith marriage."
By 2012, chocolate began showing up on some Seder plates [or actually was the Seder plate] as part of a campaign by Fair Trade Judaica to protest child slave labor in African cocoa fields. Recently the tomato made an appearance to symbolize solidarity with ill-treated and underpaid farm workers.
And this year concerns about refugees have led to not one, but two new fruits on the Seder plate: pineapple and banana. "In American colonial times, the pineapple was a symbol of welcome and prosperity," Rabbi Deborah Waxman, the president of Reconstructionist Rabbinical College, says in a YouTube video. "They were special gifts because of the great labor and expense required to ship them from the tropics. As we think about those in the midst of crossing through danger and into unknown lands, we aim to bestow upon them the gifts of hospitality and a sweet welcome." Other Passover observers have started adding bananas, in memory of 3-year-old Alan Kurdi, whose lifeless body washed up on a Turkish beach in 2015 and whose father said bananas were his sons' favorite treat.
Ironically, many ultra-Orthodox Jews will not eat bananas, tomatoes or pineapples during Passover because their rabbis have not approved these new world foods as kosher l'pesach. Somehow this had not led to a ban on chocolate for Passover, only on milk chocolate, since meat is traditionally part of the Pesach meal. Which is why Jewish dark chocolate aficionados like me look forward to this holiday all year. For more info see these articles from the Jerusalem Post and JTA.

Posted by at 11:25 PM | Comments (0)
April 13, 2017
My previous post focused on the afikoman, a Passover item first mentioned in the Mishna. Eating the afikoman to end the Seder meal was an innovation necessitated by the Holy Temple's destruction, but the custom only became popular in the Middle Ages. Today, when there are thousands of different Haggadot, one of the newest innovations, popular among liberal Jews only in the last twenty years, is to add an orange on the Seder plate.
It's one thing to differ on when to eat the afikoman, a practice whose origins are lost in antiquity. You would think that everyone would agree on the source of such a recent custom as the Seder plate orange. But many Jews, myself included, first placed one there because we heard the apocryphal story of Susanna Heschel [daughter of rabbi/scholar/author/theologian Abraham Joshua Heschel], who was speaking at a synagogue in Florida. After, or during, her lecture—depending on the story—a man stood up and angrily declared that a woman belongs on a bima like an orange belongs on a Seder plate. To support women rabbis and their place on the pulpit, Jewish feminists put oranges on their Passover tables.
Later I heard that Susanna Heschel herself had disavowed this tale, and that the man, not necessarily from Florida, had shouted that a woman belongs on the bima like bread on a Seder plate. This statement is even more offensive to women rabbis since Jewish Law forbids the very ownership of bread during Passover. Not wanting to violate halacha, Jewish feminists used an orange instead of bread. But as I learned recently, the second story is closer to the truth.
The truth, from an article by Susanna Heschel herself in the 2003 "The Women's Passover Companion," has a story from a 1980's feminist Hagaddah about an outraged Rebbe shouting, "There's as much room for a lesbian in Judaism as there is for a crust of bread on the Seder plate." Heschel was inspired, but she couldn't follow it literally because "its symbolism suggested that being a lesbian was being transgressive, violating Judaism, which isn't true." She wanted to "call attention to the links between the homophobia that has made the lives of gays and lesbians so difficult and the gender discrimination experienced by Jewish woman." So she put a tangerine on her Seder plate.
Thus, while she originally placed an orange on her family's Passover table for a combination of reasons that were indeed related to women's marginality in Judaism, her fundamental message was to express solidarity with gay and lesbian Jews. She was appalled when she eventually heard the dubious tale where her idea and words were attributed to a man and her goal of affirming lesbians and gay men was erased.
To read more go to this link. To read Heschel's article, check out Google books

Posted by at 12:14 AM | Comments (0)
April 09, 2017
The first Seder is Monday evening, and Jews all over the world will finish their meal by eating a small piece of matzah called the "afikoman." But what is the afikoman actually and when should one eat it? As with all Jewish holiday traditions, there is no one right way to do them. Today, the afikoman is seen as a substitute for the Pesach lamb sacrifice, which was the last thing eaten at the Passover Seder during the eras of the First and Second Temples in Jerusalem.
The Mishna in Pesahim 119b, which assumes the Holy Temple is still standing, states, "We do/may not conclude after Pesach with afikoman." Clearly Pesach here means the pascal lamb sacrificed and eaten by families in Jerusalem on the first night of Passover. But the Talmudic sages disagree about the afikoman, as is seen in various translations of the Mishna. Rav says it means uprooting oneself and moving from house to house, which is why afikoman is sometimes translated as "revelry." Shmuel, and several other rabbis, say it means dessert, which in Rashi's time were matzah sponge cakes, matzah wafer/crepes, and matzah fried in oil and honey. Rav Yosef explains, however, that Shmuel means that we may conclude the Seder with dessert.
After much discussion, the Sages agree that afikoman means dessert, and move on to the real problem: what to do in post-Temple times when there is no Pesach lamb sacrifice. Rava concludes that the remaining Biblical obligation for the first night of Passover is to eat matzah. Therefore one should not eat the afikoman-dessert after eating matzah, so that the taste of the matzah eaten during the meal remains in our mouths. Clearly this was a problem once it became the tradition to eat matzah, and say the blessing for bread, before the meal. So the custom arose of designating a special piece of matzah as the afikoman and not eating it until later, after dessert.
But at many Seders today, some people leave after dessert without staying to drink the full Four Cups. Thus we established a new tradition at our house. During the meal, the children search for the afikoman that my husband has hidden, and after they find it we continue with the Seder without eating dessert. By the time we finish all the songs and say the closing prayers, everyone has room for goodies, which are then served. A plate with afikoman pieces sits inside our front door so guests can take one just before they leave, thus ensuring that when all is said and done the taste of matzah does indeed remain in their mouths.

Posted by at 11:02 PM | Comments (0)
March 30, 2017
Lately False News and Alternative Facts have been a very hot topic of discussion, demonstrating that people will believe all sorts of things they read on the Internet. On this subject, I've noticed several FaceBook posts in the last few days that say, "It's National Book Week. The rules: Grab the closest book to you, turn to page 56, post the 5th sentence as your status. Don't mention the title. Copy the rules as part of your status."
I've seen this fun exercise in the past [I always quote from one of my own books], but this time I wondered if it really was National Book Week. Lo and behold, according to two Internet sources , January is National Book Month and the third full week in January is National Book Week. Suddenly it was not so fun to realize that this was a perfect example of how Fake News proliferates and spreads via social media. OK, so getting the date wrong for National Book Week is not a big deal and is unlikely to lead to horrific unintended consequences, but I still found it a little scary to see how many of my literate friends didn't bother to verify it.
So which is False News? When is the REAL National Book Week? Actually this is a trick question, since different countries have "national" book weeks at different times. But the last week in March does not seem to be anybody's national book week, except maybe FB's.
Posted by at 10:57 PM | Comments (0)
March 27, 2017
As a Benjamin Franklin Award finalist, I was queried by the IBPA Magazine editor for an article on book awards. Here are her questions and my answers, which certainly made me think about the subject.
Q: Do you submit to book publishing awards often?
A: No - at least I don't think so. To which ones do you submit? My four historical novels published by Penguin have each been submitted for a National Jewish Book Award, but that is the only one. I submitted my recent nonfiction book, published by my own small press, only for a Ben Franklin.
Q: What value do you gain from submitting to (and/or winning) book publishing awards?
A: Considering that Penguin paid for submitting the books they published, I had nothing to lose. But the value was in getting my novels in front of Jewish book mavens, and thus increasing the buzz. My fourth novel was chosen a National Jewish Book Award finalist, but I didn't see any increase in sales, and nearly all my fans only learned about this award because I told them about it. I think Ben Franklin Awards are even less well known.
Q: Tell me about your submission(s) to this year's Benjamin Franklin Awards.
A: I submitted Fifty Shades of Talmud: What the First Rabbis Had to Say about You-Know-What, a small light-hearted nonfiction look at sexuality in the Talmud, in the Humor and Religion categories. I didn't have great expectations, and was curious how it would do with a predominantly non-Jewish group. If nothing else, the judges might tell others about it and add to the buzz. I was pleasantly surprised that my book was chosen as a finalist.
Q: What tips, if any, do you have for those interested in submitting for an award?
A: Even if your book wins, don't expect to see anything more than a modest increase in sales; after all, you're not getting a Nobel or Pulitzer. Most readers will learn about your award [if they do] from your own promotional efforts, not from any mainstream media. Think of submitting for an award as just another way of getting your book in front of more eyes.

Posted by at 11:50 PM | Comments (0)
March 19, 2017
In case you didn't know, back in 2004 my then literary agent was unable to interest a publisher in my first Rashi's Daughters novel. However I was so determined to get the book out for Rashi's 900th yartzeit in July 2005 that my husband and I started our own small press to do so. We called it "Banot Press," Banot being Hebrew for "daughters." With help from a book shepherd, Sharon Goldinger of PeopleSpeak, we hired editors, cover and interior designers, a printer and a distributor.
The result, Rashi's Daughters: Book I – Joheved, was impressive enough that Sharon suggested entering it for a Ben Franklin Award in three categories: Historical Fiction, Best New Voice: Fiction (first book by a new author), and Best First Book: Fiction (initial title from a new publisher). At least those are the three categories I recall entering, mainly because my book was chosen as one of three finalists in them.
Back in 2006, the Ben Franklin Awards were given out at a dinner ceremony at the end of BEA [Book Expo America], which was held that year in New York City. I was in town anyway on book tour, and since the award dinner was free for finalists, I figured I might as well attend. Boy was I amazed to walk into a grand ballroom with tables set for over a thousand people. An elaborate buffet lined two walls, and the food was clearly levels above the "rubber convention chicken" I'd expected. As the room grew more crowded by the minute, I frantically looked around for a place to sit.
Suddenly I heard someone calling my name, and thank Heaven, there was Sharon, waving me over to her table. I had no sooner gotten my meal and sat down to eat than Sharon asked if I'd written my acceptance speeches. What?! I was supposed to get up on stage and give a speech if my book won? In front of a thousand publishing mavens? She pulled out the program, which I hadn't taken time to look at, and to my horror, the first awards to be announced were those for Best New Voice in Fiction, Nonfiction, and Children's/Young Adult.
Dinner was forgotten as I desperately cribbed some notes on a napkin. Thankfully the Children's and Nonfiction awards came first so I could hear what those winners said. It was an impressive ceremony. First the category was announced, then each finalist was described as its cover appeared on a large screen above the stage. Finally, as the winning book title was named, its cover grew and the others shrank until only the victor's cover remained, occupying the entire screen. It was an awesome moment, and I don't know if I was more afraid of winning or losing.
If you read my last post, you know Rashi's Daughters: Book I – Joheved won Best New Voice: Fiction. My book's cover gradually filled the screen, and the enormous ballroom echoed with applause as I slowly made my way to the stage, total strangers stopping me to offer congratulations. It was like the Academy Awards. I even received a large, and heavy, trophy.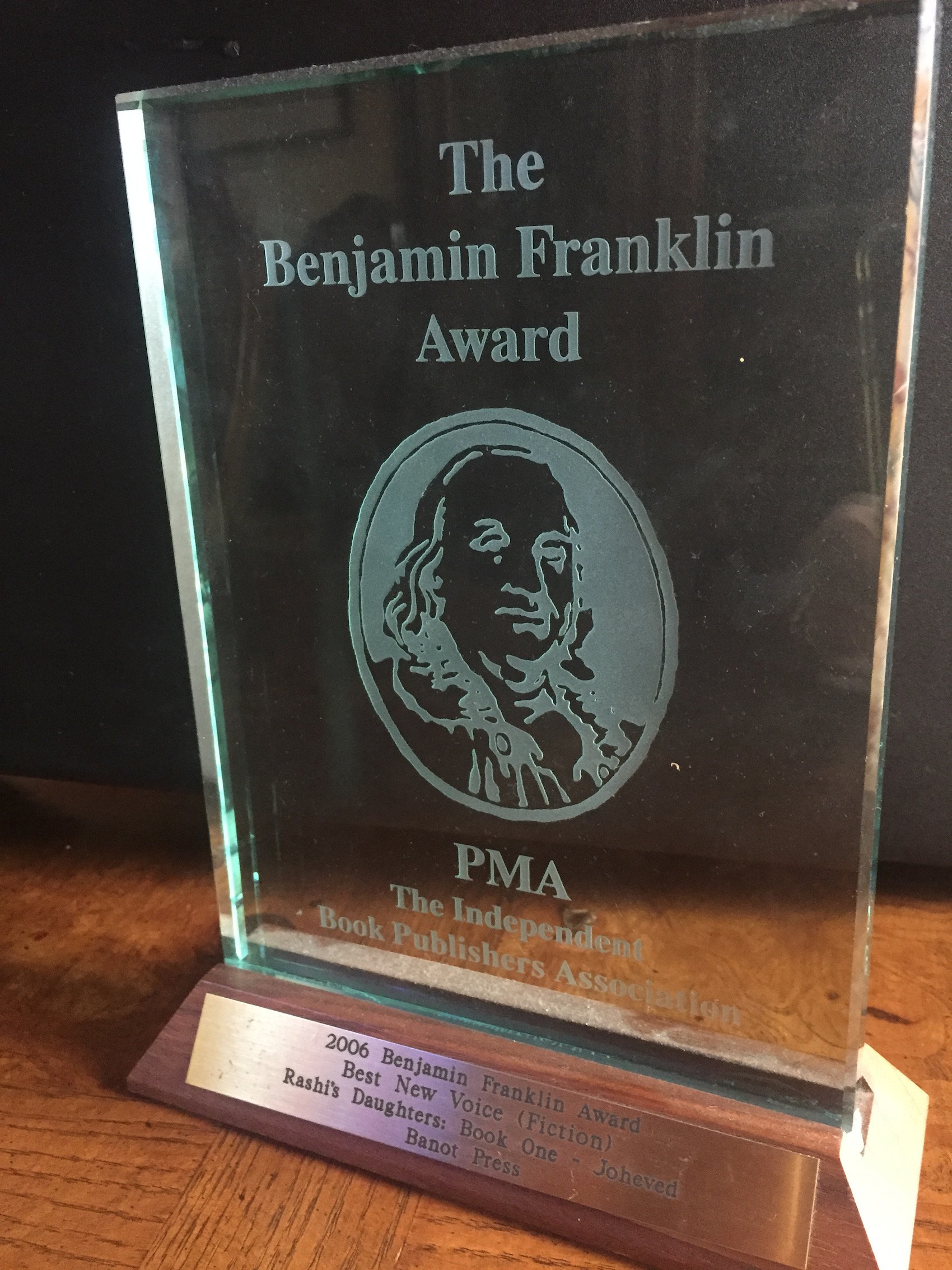 Posted by at 07:13 PM | Comments (0)
March 16, 2017
Oy gevalt, it has been an entire month since my last blog post. Yes, I was away in Arizona for almost two week and then off to another book tour in Sacramento, but I'll be honest and admit that I remain in such a funk from the election that it is difficult to get motivated.
But now I have some good news. Last fall I entered "Fifty Shades of Talmud" for both the National Jewish Book Awards [in the Women Studies and Book Group categories] and the IBPA Ben Franklin Awards [in the Religion and Humor categories]. I didn't expect to become a Jewish Book Award finalist since neither category was a particularly good fit for my book. However I figured the entry fees were worth paying because it would get "Fifty Shades of Talmud" read by many judges, all movers and shakers in the world of Jewish books. So I was more relieved than disappointed when others books were nominated instead, especially since winning would force me to use my own funds to accept the award in NYC in the dead of winter.
To my surprise and gratification, "Fifty Shades of Talmud" is one of three finalists for the Ben Franklin Award in the humor category. Most of my readers have probably never heard of IBPA [Independent Book Publishers Association] despite it being the largest nonprofit trade association of independent and small publishers since 1983. Given in 55 categories including subjects like travel, cookbooks, children, poetry, LGBT, as well as some for various kinds of design like interior and cover, a IBPA Benjamin Franklin Award for excellence in book publishing is regarded as one of the highest national honors for small and independent publishers.
Eleven years later, I am still proud and honored that my very first book, "Rashi's Daughter: Book I – Joheved", won the Ben Franklin Award for "Best New Voice: Fiction" in 2006. The beautiful [and heavy] trophy enjoys a prominent place in my living room to this day. My next blog post will continue with what it was like to receive such a prestigious award. For more in IPBA, here is their website

Posted by at 08:27 PM | Comments (0)
February 16, 2017
After complaining about the lack of Jewish Romance novels, I received several recommendations from friends and fans. One of them, calling herself Shomeret on Goodreads, had good things to say about Miss Jacobson's Journey by Carola Dunn, a novel from a very obscure historical fiction genre - Regency Romance with a Jewish heroine. Finding an e-copy in the Los Angeles public library system, I downloaded it. I am almost finished reading this delightful tale, and I admit I enjoyed it more than I expected.
True to the Regency genre, the heroine Miriam is spunky and determined not to marry the wimpy scholar her parents have chosen for her, so she runs off on an adventure to help her widowed uncle, a doctor, in his research. She meets up with two attractive young men, both of who come from once wealthy families. One is a Jew whose banker father was bankrupted when too many of his noble clients didn't pay back their loans; the other an impoverished Earl whose father made one too many imprudent investments [of course no Regency romance is complete without a handsome, eligible nobleman]. Love is in the air, but which suitor will Miriam chose?
Shomeret writes a book review blog, and has favorably reviewed my novels, which is how I discovered her. To read Shomeret's review of Miss Jacobson's Journey, here it is on her blog.
Posted by at 02:20 PM | Comments (0)
February 09, 2017
Back to Valerie Rhein's class, you may notice that I left out any mention of modern scholarly reasons why women are excluded from time-bound positive mitzvot. Also attending this session was Rabbi Judith Hauptman, Talmud professor at JTS. Prof Hauptman points outs that the Talmud mentions time-bound positive mitzvot only in connection with women. Indeed, this distinction between mitzvot exists solely for the purpose of differentiating between a woman's ritual obligations and her exemptions; it has no other use. She postulates, and both Prof Rhein and I agree, that it is no coincidence that the exemption of women from Judaism's essential ritual acts dates from after the Second Temple's destruction.
When the Temple stood the social hierarchy of Jews was, from highest status to lowest, was Kohen, Levi, Israel, slave. Those who served God were at the top. But without the Temple, the distinction between slaves and everyone else was all that remained. How could the old order where those who served God were highest be maintained? Women from priestly families didn't serve in the Temple, so it followed that with no Temple, they would still have a lesser obligation to perform rituals that took the place of Temple service. After all, women already had lower status than men in society.
However exempting women from a small number of ritual mitzvot wasn't enough of a difference in status to satisfy the Rabbis. The cemented a woman's lower standing by exempting her from Torah study, what they saw as the most valuable use of a Jew's time. Leaving women ignorant of how Torah was interpreted also had the beneficial effect, for men, of making women completely dependent on how rabbis interpreted Jewish Law.
Which is why I deem it more important to study Talmud than to don tefillin. For some historical background, see this article in the Jerusalem Post

Posted by at 11:52 PM | Comments (0)
February 05, 2017
So why, following on my previous post, are women exempt from time-bound positive mitzvot? The Talmud explains that a woman's time belongs to her husband and he might need her to do something at the same time she's supposed to perform a mitzvah. But what about a widow or divorcee then? Why is she exempt? And if you say she needs to be attentive to her children and household, then what about the woman without children or whose children are grown? In any case, some time-bound positive mitzvot take little time to perform, like saying the Shema or hearing the Shofar. Others, like dwelling in the sukkah or taking the lulav, can be done anytime during the week of Sukkot; especially dwelling in the sukkah, since the woman has to eat somewhere that week. And since medieval times, woman have increasingly taken on these four mitzvot, to the point where the question today isn't whether women should perform them but whether they should say the blessing when they do.
Some more modern reasons popular with the Orthodox include: [1] women are naturally more spiritual than men, and therefore require less demanding religious mitzvot; [2] women's menstrual cycles give them a natural rhythm of time, and therefore they don't need the time-bound mitzvot; [3] In God's infinite wisdom, God delineated different responsibilities for men and women according to their respective metaphysical and physiological needs. Reform and Conservative Jews are egalitarian and believe that it is discriminatory for men and women to have different ritual obligations.
However, these assume that everyone agrees what constitutes a time-bound positive mitzvot. Some rabbis in the Talmud do not accept that tefillin and tzitzit are time-bound, and therefore women should don them. Rabbi Yehoshua ben Levi declares that despite the Mishnah exempting them, women are nevertheless obligated to eat matzah during Pesach, hear the Megillah read at Purim, and light the Hanukah lamp – each clearly a time-bound positive mitzvah. And of course a woman must observe Shabbat and afflict herself on Yom Kippur, which the Rabbis justify because those holidays have both positive and negative mitzvot associated with them.
The bottom line is that even Orthodox women today are obligated to more time-bound positive mitzvot than they are exempt from. For more on the subject, from Orthodox and non-Orthodox viewpoints, click on the highlighted links.

Posted by at 11:51 PM | Comments (0)
February 02, 2017
Yes, I know it has been over a week since my last post. Whether I call them reasons or excuses, I've been occupied with caring for a sick granddaughter, being sick myself, organizing financial records to prepare for income taxes, and in between all those, doing research for my next historical novel. But I still have more to report about Limmud UK.
One of the presenters was Valerie Rhein from Bern, who spoke about women's exemption from TIME-BOUND POSITIVE MITZVOT. The division of commandments into these categories comes from the Mishnah, with no specific mention in the Torah. Thus the Rabbis had to figure out which mitzvot fell in which category [easy], and then come up with reasons why women should be obligated in some and exempt from others [not so easy]. Prof. Rhein focused on the 21 commandments mentioned in the Talmudic discussions found in Kiddushin 33b-35a and Berachot 20b. Seven of these mitzvot are non-time-bound, woman obligated [e.g. mezuzah, returning a lost object], seven are time-bound, woman not obligated [e.g. sukkah, shofar], four are time-bound, woman obligated [e.g. matzah, Kiddush], and three are non-time-bound, woman not obligated [e.g. procreation, Torah study].
She listed each commandment, the Torah verse on which it is based, and which group is addressed. For example procreation is commanded to both Adam and Eve in Genesis 1:27, while eating matzah at Pesach is directed at the whole congregation of Israel in Exodus 12:3. The reason this topic is so interesting, and so full of apologetics, is that there are too many exceptions to the rule that women are exempt from time-bound positive mitzvot and obligated to non-time-bound positive mitzvot for the Rabbis to ignore. Not to mention why women should be exempted from mitzvot based on time.
I will get to some of the arguments, both Orthodox and Progressive, in my next post. For more on the subject, see this My Jewish Learning article

Posted by at 10:42 PM | Comments (0)
January 22, 2017
The last session I presented at Limmud UK was actually an interview by Gilad Halpern of TLV 1, a Tel Aviv radio station. Interviews, especially those in real time, can be a challenge since I rarely get the questions in advance. Thus I have to be quick on my feet to give what I hope will be an erudite and entertaining reply with a minimum of hesitations. And Heaven forbid I can't come up with an answer.
He questioned me about my new book for about 15 minutes, during which I explain that, among other things: [1] the Rabbis came to the astonishing conclusion that if a man wants to have sons, he should ensure that his wife comes to orgasm first; [2] the Talmud teaches that a father and mother each provide seed to create a child, unlike the Greeks and Romans, who believed than a man's semen contained an entire miniature infant while the woman merely furnished a place for the baby to grow, [3] the big difference between Jewish positive and Christian negative views on sex arises because for Jews it is a mitzvah, a commandment, to procreate, while for Christians the ideal is to be celibate like Jesus.
To learn more, you can listen to the entire interview on a podcast from the Tel Aviv Review.

Posted by at 09:58 PM | Comments (0)