February 24, 2014
The Golem and the Jinni LP: A Novel by Helene Wecker

My rating: 5 of 5 stars


This book is fantastic [in both senses of the word]: wonderfully creative and unique plot, fascinating characters, good writing, and best of all, a satisfying and happy ending. I'm not going to detail the story - other reviewers have done that - but I must say that as a historical novelist whose latest books deal with Jewish magic Enchantress: A Novel of Rav Hisda's Daughter, I am very demanding when reading other novels in my genre, and this one surpassed my expectations. I cannot recommend it highly enough.

Maggie Anton



View all my reviews

Posted by at 07:01 PM | Comments (0)




February 19, 2014
When I speak to book groups about RAV HISDAíS DAUGHTER, which I do both in person and by speakerphone or skype, there are certain questions that seem to come up regularly Ė questions that would only occur to someone who has read the book. One of them is about my depiction of slavery, both in my heroineís household and in her world.
This novel, and its sequel ENCHANTRESS, takes place in 3rd-Century Babylonia and the Galilee of Eretz Israel. Both Rome and Persia had millions of slaves among their populations; some estimates as high as 25% in the Roman Empire. For the most part, there were no such thing as 'hired' servants, only slaves, although some Roman slaves were so wealthy and powerful that they had their own slaves.
The Talmud makes it clear that some rabbis back then had slaves and some were slaves [usually scribes and secretaries to other rabbis]. Persia imposed a tax on individuals older than 12, and those who couldnít pay it became the slaves of those who paid it for them. The Jewish community considered it praiseworthy for wealthy Jews to pay the taxes of poor ones, for this way the poor would not become slaves to Persian non-Jews. Of course nobody seemed to consider that the rich could just give charity to the poor to prevent them from being enslaved.
Quite a few of my readers were dismayed to see that Rav Hisdaís family were slaveowners and how they treated their slaves, which was actually fairly decently compared to others. But I was determined that my heroine would not have 21st century views in a 3rd century body, even if I wrote about her doing and thinking things that I personally found upsetting. I was also determined not to cover up or ignore this aspect of her culture, which so many other historical novelists seem to do by either calling slaves 'servants' or ignoring their existence altogether.
And don't even get me started on the position of the average woman back then, which was only a step up from slavery - either to her father or her husband. I will only say that a female slave in a wealthy household like my heroineís would undoubtedly have considered herself better off than a poor manís wife.

Posted by at 10:40 AM | Comments (1)




February 11, 2014
♪♫♪♪♫ Will you still need me, will you still feed me, when I'm 64? ♪♫♪♪♫
I turned 64 today and Google surprised me with a special screen when I logged in.
When I clicked on it, it said "Happy Birthday, Maggie." I wonder how the NSA intends to help me celebrate.

Posted by at 07:49 PM | Comments (0)




February 09, 2014
Part promoting my books and part learning from readers and other authors, I am a member of several online groups on Yahoo, Goodreads, and LinkedIn. Now that ENCHANTRESS has been accepted, I have more time to spend on these websites; plus itís time to start changing gears from writing to promotion. Some of the discussions are fascinating, particularly those of Book Marketing and Authors Circle groups on LinkedIn and the Historical Fictionista group on Goodreads.
Recently I saw this question on Authors Circle: ďWhat Do You Spend More Time on? As a writer, do you spend more time, thinking about what to write, gathering materials for writing, or actually writing?Ē Here is the comment I posted.
As a historical novelist, I have to spend a huge amount of time doing research before I even start writing. In the case of my most recent novel, which takes place in 3rd-century Babylonia, I spent a year on research before writing a word. But then for me, research is the fun part; writing is the hard work. I keep doing research until the novel is finished. Thinking about what I'm going to write is my favorite activity. I generally do this at night, or early in the morning during those half-awake times when my creative brain takes charge. Sometimes I amaze myself at the scenes I imagine.
Now that I'm on my 6th novel, writing the first draft takes much more time than editing. However I am published by Penguin, so their editorial staff does a good deal of work that I am spared. I actually enjoy the editing process, seeing how my story improves with each new revision. Truth be told, I probably spend just as much time on marketing as writing, even with my publisher's formidable publicity dept doing a lot of the heavy lifting at the beginning. My first book is still selling well and that is because I continue to go out on speaking tours, talking about my research, and I have to arrange all those gigs myself.

Posted by at 01:46 PM | Comments (0)




February 03, 2014
Hurray! After a fourth set of edits, and revisions, my editor at Penguin has accepted my ENCHANTRESS manuscript for production Ė 88 pages and 22,000 words less than what I sent her at the end of December.
When I left off in my previous post, Iíd accepted nearly all the editorís changes for those initial 3 chapters, rewrote a little so the deletions werenít obvious, and sent the file back for more [we agreed that there would only be one person working on it at a time]. The second installment of 11 more chapters arrived later in the week, and I chained myself to the computer to get them back to her asap. I learned that what she does is editing, and what I do afterward is revising. In other words, I revise her edits. This time I not only agreed with nearly every edit she made, but made additional deletions as well. Several days after I sent these back to her, round three began. We were now up to chapter 25, having revised two-thirds of the book and shortened it by almost 80 pages.
The final 11 chapters came in last week, with the editorís comments that she had made relatively few changes. That was true, especially compared to the major edits to the first half of the novel. Once I finished revising these, which didnít take too much time, it was clear that I needed to rework where several chapters began and ended in order to keep them all approximately the same length. I also changed several words and phrases that Iíd overused, so that my characters didnít spend their whole lives sighing and crying.
So at 2 am Sunday night [Monday morning], I emailed the file back and when I logged on before breakfast, there was the good news.

Posted by at 07:24 PM | Comments (0)




January 27, 2014
After a digression to once again address the pressing question of women laying tefillin, an update on the progress of ENCHANTRESS towards publication. I posted in early January that Iíd sent what I hoped was the final manuscript to my Penguin editor in NYC. With APPRENTICE, which had an earlier pub date, my editor found little to change, with the result that her edits were combined with the copyeditorís. I received the copyedited ms a month later for my approval and off it went to the interior designers.
This time my editor wanted to do some heavy line editing, which means she goes over the entire ms with a fine-tooth comb and suggests lots of changes. I knew that ENCHANTRESS, which covers 60 years of my characterís life, was longer than my previous novels and that it started out slowly, but I thought Iíd done my best under the circumstances. So I was rather nervous about my editorís desire to do some major pruning.
Itís my novel, my agent reminded me, so I donít have to accept every change the editor makes. With that in mind, I anxiously opened the file that contained the first 3 chapters worth of edits. Wow! The good news was that she cut out duplicate material, trimmed lengthy exposition, improved the flow, and removed just enough info that the reader would be hungry to know more. The bad news is that Iím not nearly as good a writer as I thought.

Posted by at 10:40 PM | Comments (2)




January 23, 2014
Some of you may have seen the online article about whether Rashiís daughters really wore tefillin]. I have addressed this question many times and here is my answer:
As part of the extensive research behind my RASHI'S DAUGHTERS, no subject intrigued me more than the elusive [and ubiquitous] legend that they wore tefillin. Indeed, when I first started studying Talmud and was introduced to Rashi, I was told that legend held that they were learned and wore tefillin. I actually tracked the earliest mention of this back to the 18th century, but there was no evidence provided.
Ari Zivotofsky is entirely correct that to this day there is no hard proof that Rashi's daughters wore tefillin. However, there is evidence [Machzor Vitry, Avraham Grossman, Elisheva Baumgarten, and others] that a few women did wear tefillin in 11th-12th century Ashkenaz, just as some women wore tzitzit, blew the shofar, performed circumcisions, and had aliyah to the Torah in Rashi's community. Thus one might argue that if any woman was going to wear tefillin in that time, surely it would have been one of Rashi's daughters. As far as I'm concerned, the answer to the question "did Rashi's daughters" wear tefillin is 'maybe.'
I will offer an intriguing bit of circumstantial evidence from Tosofot to Tractate Rosh Hashana 33ab, where, as a commentary to the debate over whether women may blow the shofar or must be restrained from doing so, there is a long discussion about what it means for women to be exempt from time-bound-positive mitzvot. Rabbenu Tam [one of Rashi's grandsons] insists that women may perform these mitzvot if they want, and should say the blessing if they do. Interestingly, the example he uses is that of tefillin [which some rabbis argue is not time-bound at all]. I speculated that he chose tefillin because it was the one he saw a woman, that is his mother, do.
In any case, as a novelist, I am free to include any legends about my characters in my books, even those that are impossible, such as a wall opening to save Rashi's mother from a runaway cart when she was pregnant. That his daughters may have worn tefillin is much more likely.

Posted by at 05:18 PM | Comments (0)




January 20, 2014
Hereís a cute story from last monthís URJ Biennial. The main Shabbat morning services, including Torah reading, take place in the main hall for all 5000 of us to worship together. Early, however, there are several different small sessions for praying the morning blessings. Except for the getting up early part, this is my favorite service rubric, with lots of singing of psalms, etc.
I chose a session with cantors showcasing new music and when we were asked to introduce ourselves to those sitting nearby, I was amused to find that the woman behind me was also named Maggie. We were joking about the odds of finding two women there with such an uncommon Jewish name, when a man said that his wife was named Maggie. Next thing you know, he was taking a photo of the 3 of us, which I must say turned out pretty good.
So here we are: Maggie Anton, Maggie Cant, and Maggie Hand.
Posted by at 09:37 PM | Comments (1)




January 14, 2014
I took a week off to visit with my sonís family in Scottsdale AZ and came back to find that my Penguin editor had some revisions for me to look at. So a slight delay in blogging while I went over them, which Iíll post more about later. Meanwhile, back to the questions I was asked at my URJ Biennial author panel. In no particular order:
What made me decide to write about the subject matter of my books? After learning that Rashi had no sons, only daughters, and that they were reputed to be learned way back in the 11th century, I became curious about whether the legends were true. What I discovered in my research was so compelling I decided to write novels about them.
How did my writing get me more involved in Judaism? It made me a Talmud scholar and an expert on Jewish womenís history, knowledgeable enough that I have now spoken at over 600 Jewish venues about my expertise.

Do my characters have lives beyond my novels? My protagonists are all historical figures, albeit not well documented, so they have much fuller lives than what I wrote about.
What surprised me or was unexpected about my author journey? Since I had no aspirations to be a writer earlier, my entire author journey has been surprising and unexpected. Particularly that so many people have read what Iíve written and like it.
What response did/do I get from readers & how does it affect me? It amazes me to receive fan emails, which I try to answer diligently. Occasionally I get an email that moves me greatly, like from women who say my novels got them through chemotherapy or who read them to family in the hospital, or who want to know where they can study Talmud.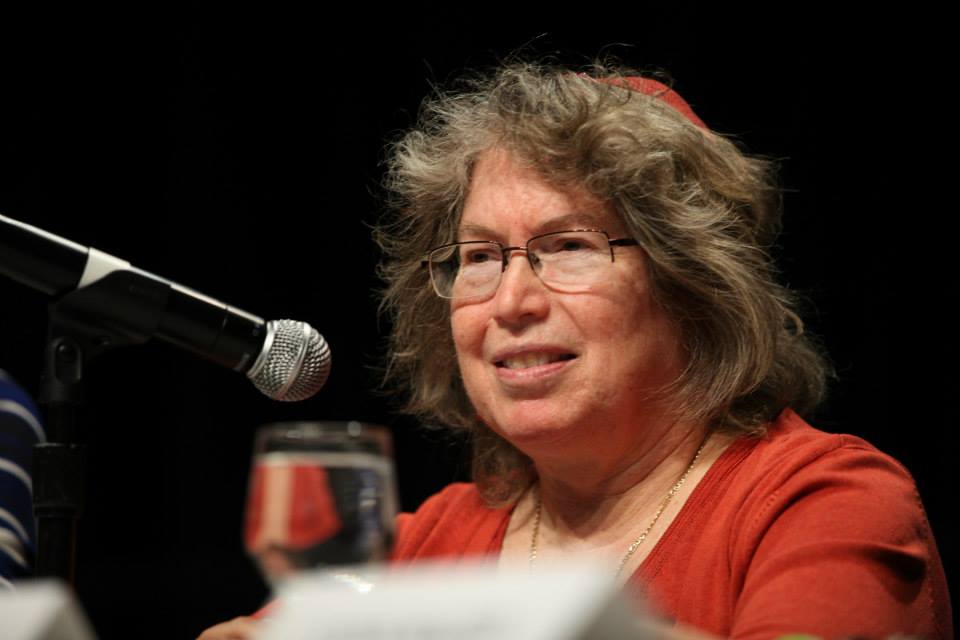 Posted by at 10:55 PM | Comments (0)




January 01, 2014
Happy Secular New Year! Now that my editor at Plume has received my finished ENCHANTRESS ms, along with a Cast of Characters, Iím following up on my promise to describe my experience at the Union of Reform Judaism [URJ] biennial earlier this month in San Diego. It was both incredible and overwhelming to experience being with 5000 Jews, from worship to workshops to concerts. Believe me, you havenít experienced Shabbat joy until youíve sang and danced with thousands of people in a giant convention center hall [see photo below of the crowd, including me at the right in the red sweater]
The four days were also filled with connecting with old friends and new acquaintances from all over the Jewish world, many of whom I hope will invite me to speak at their synagogues after ENCHANTRESS comes out in Fall 2014.
I was both grateful and honored to be part of it. Huge thanks to WRJ [Women of Reform Judaism] for inviting me to speak on a panel with authors Anita Diamant and Zoe Klein before an enthusiastic audience of over 250. Instead of my usual topic of the research behind my books, I spoke about my journey from clinical chemist to historical novelist and how my being a Jewish woman impacted that. It was interesting that all 3 of us started out as secular Jews, with most of our religious education coming as adults. Next post Iíll share some of the questions we were asked.

Posted by at 09:46 PM | Comments (0)




December 27, 2013
A bittersweet day for me today. Late last night I emailed the Ďfinalí ENCHANTRESS manuscript to my editor at Plume/Penguin. I say Ďfinalí with quotes because, assuming my publisher accepts it, there will still be more edits in the works. Some, hopefully not too many, for content by my editor, followed by an embarrassing number of fixes by the copy editor. Thatís when I find out that spell-check doesnít find nearly all the errors I would hope.
But this is the start of saying good-bye to Rav Hisdaís daughter and all her associates. Her tale is told. My contract with Plume is for two volumes and Iíve done them.

Posted by at 04:26 PM | Comments (0)




December 18, 2013
The URJ Biennial was fantastic and exhausting, and once January arrives and Iíve sent the final ENCHANTRESS ms to my publishers at Plume, Iíll blog more about it. For a taste, check out the videos; I especially recommend the Friday Night Song Session, where if you look carefully, you can glimpse me dancing in a long line of exuberant Shabbat celebrants. Iím wearing a red top and brown skirt.
Back to my editing saga. It took me several weeks just to go over my daughterís edits to Part 1; like Volume 1 Ė APPRENTICE, Volume 2 is also divided into parts. As I mentioned before, editing my first, rough, draft also involves setting each scene, embellishing the dialogue with beats and more descriptive terms than Ďsaid.í Once this was accomplished, I sent the new second draft of Pt 1 to my freelance editor and turned my attention to revising Pt 2. At this point Iíd managed to whittle Part 1 down to 75,000 words, but Part 2 was close to 90,000. Clearly I had my work cut out for me.
Iíd expected have Part 2 to my editor much sooner, but as you know, life intervened and I lost a few weeks when my retina detached in late October and I needed emergency eye surgery. When she started on other projects in the interim, I was left with more time to work on Pt 2 until she was ready for it. Thankfully my publishers had already pushed the pub date for ENCHANTRESS to Sept 30, two months later than RASHIíS DAUGHTERS same out. So they were able to allow me more time to finish the ms in light of my eye problems Ė for which I am very grateful.
So beyond the kind of fixes I did on Pt 1, the second draft of Pt 2 also included many recommended by my favorite editing aid, Self-Editing for Fiction Writers by Browne and King. Thus my editor had much less to fix in Pt 2 than in Pt 1.

Posted by at 02:31 PM | Comments (0)