April 18, 2015
Played the local on this gorgeous spring day in Manhattan. Under bright blue skies, with temps heading up to nearly 80 degrees, I passed on seeing a Broadway show in favor of walking around Museum Mile and picnicking in Central Park. Started out with full breakfast of scrambled eggs, turkey bacon, Belgium waffles, and great coffee at the New Amity Restaurant, an old-time dinner on Madison Ave at 84th.
Then on to the Neue Galerie to see the Klimt exhibit. The place opened at 11 am, and when I got there at 10:30, the line of people waiting to get in was around the corner. But seeing Woman in Gold close-up was absolutely worth it, for I'd never realized how 3-dimensional the painting is, how much texture went into various squares, eyes, and other design elements on her dress.
Next to the Jewish Museum, free on Shabbat, to see their reproductions of the Dura Europos Synagogue frescoes, as well as other exhibits, followed by a picnic lunch in Central Park. Grand finale was at the New York Historical Society Museum, where I saw an excellent and informative exhibit on Lincoln and the Jews

Posted by at 07:24 PM | Comments (1)
April 12, 2015
I am getting all those last minute chores taken care of before my 6 am flight to JFK tomorrow morning. For those in the vicinity of NYC [i.e. between New City NY and Bensalem PA], next week starts the mother of all book tours, 30 events in just over 3 weeks with the last one right before Mother's Day. Come hear me speak about Talmudic Rabbis and Jewish Sorceresses – Strange Bedfellows. Check out the schedule below and see which program is closest to you. See my Website Schedule for links.
April 14 - noon lunch & learn. Cong Rodeph Shalom, 7 W 83rd St, New York, NY 10024
April 14 - 7 pm. Temple Emanu-El Skirball Center, One East 65th Street | New York, NY 10065
April 15 - Sisterhood luncheon. JCC of Harrison, 130 Union Ave, Harrison, NY 10528
April 15 - 7 pm. New City Jewish Center, 47 Old Schoolhouse Rd, New City, NY 109565
April 16 - 7:30 pm. Westchester Reform Temple Sisterhood. 255 Mamaroneck Rd, Scarsdale, NY 10583
April 17 - 6 pm. Shabbat Dinner. Manhattan JCC. 334 Amsterdam Ave, New York, NY 10023
April 19 - all day. No New Jersey region Hadassah education day. JCC Metro West, 760 Northfield Ave, West Orange, NJ 07052
April 19 - 7pm. Sisterhood Temple Beth Sholom, Roslyn NY
April 20 - lunch. Long Beach Hadassah. Lido Beach Synagogue, One Fairway Road (corner Lido Blvd), Lido Beach, NY 11561.
April 20 - 8 pm. East Meadow Jewish Center, 1400 Prospect Ave, East Meadow, NY 11554
April 21 - 7:30 pm. Beth El Synagogue, 1324 North Ave, New Rochelle, NY 10804
April 22 - 7 pm. Westchester Jewish Center, 175 Rockland Ave, Mamaroneck, NY 10543
April 23 - Sisterhood lunch. Cong Emanu-El, 2125 Westchester Ave East, Rye, NY 10580
April 23 - 7 pm. Tobay Hadassah. Midway Jewish Center, 330 S Oyster Bay Rd, Syosset, NY
April 24 - 25. Shabbat at Israel Center for Conservative Judaism, 167-11 73rd Avenue Fresh Meadows, NY 11366
April 26 - 10 am. Temple Beth Emeth, 52 Mt Sinai Ave, Mt Sinai, NY 11766
April 26 - 2 pm. Temple Isaiah, 1 Chelsea Pl, Great Neck, NY 11021
April 26 - 7 pm. Temple Beth Ahm. 550 Lloyd Road, Aberdeen NJ
April 27 - lunch. Regency Hadassah. Regency Clubhouse, 530 Buckelew Ave, Monroe Township, NJ 08831
April 27 - 8 pm. Har Zion Temple, 1500 Hagys Ford Rd, Penn Valley, PA 19072
April 28 - 1 pm. Renaissance Hadassah luncheon. Clubhouse, Renaissance Drive off Route 571, Manchester, New Jersey 08759 April 28 - 7:30 pm. Palisades JCC, 411 E Clinton Ave, Tenafly, NJ 07670
April 29 - 7 pm. Sons of Israel Sisterhood, 1666 Pleasantville Rd, Briarcliff Manor, NY 10510
April 30 - 7 pm. Temple Emanuel, 87 Overlook Dr, Woodcliff Lake, NJ 07677
May 3 - 10 am. Greenbriar Yiddish Club, Greenbriar @ Whittingham Ballroom, Monroe Township, NJ 08831
May 3 - 7 pm. Cong Tifereth Israel, 2909 Bristol Rd, Bensalem, PA 19020
May 4 - 7:30 pm. Temple Beth El, 1489 Hamilton St, Somerset, NJ 08873
May 5 - brunch. Village Grande Hadassah. Clubhouse at 100 Grande Blvd, W Windsor NJ 08550, between Old Trenton and Village Roads. Contact Joyce Cohen, H:609-371-3469, c:609-578-7276
May 5 - 7:30 pm. Stonebridge Hadassah. Senior Center, 12 Hasley Road, Monroe Tp, NJ., West Windsor NJ 08550
May 6 - 10 am. Cong Ahavat Olam, 106 Windeler Rd, Howell, NJ 07731
May 6 - 7:30 pm. Oheb Shalom Miriam Sisterhood, 170 Scotland Rd, South Orange, NJ 07079

Posted by at 09:34 AM | Comments (0)
April 07, 2015
I must congratulate the folks at Bnai Shalom of Westborough MA on their excellent new video, a Passover parody called All About Those Plagues based on All About the Bass. I am so tired of these all-male Orthodox groups having a near-monopoly on Jewish holiday videos now that Fountainheads don't seem to be making them any more. This video is not only professionally done, but features a wide diversity of ages, genders, races, and likely even some sexual orientations. That's what Judaism is about [and maybe some plagues too].
In interest of full disclosure, I admit that I spoke at Bnai Shalom in March, almost exactly while they were making this video [how I wish I could have participated too]. They are lovely people and I'm so proud of them for making this inclusive Reform Judaism video.
Posted by at 12:58 PM | Comments (0)
April 02, 2015
Passover and Hanukah seem to spawn a large variety of parodies and music videos, followed by Rosh Hashana. Because the popular ones, for example those by the Maccabeats and Fountainheads, make the rounds of Facebook, I usually end up seeing quite a few. Last year's Passover theme seemed to be turning Frozen's "Let it Go" into number of disappointing "Let Us Go" or "Let Them Go" versions. The idea was clever, but the a dozen or so I watched either paired a good video [best from Price of Egypt] with lousy singing or vice versa.
Some of the most professional videos seem to be produced by Orthodox Jews; that is, they feature only men. The few female singers appearing in them are children. Surely there are some Jewish girl groups out there, and more mixed groups than The Fountainheads, who unfortunately don't seem to have produced any new music videos this year.
I know we're all busy preparing for Pesach this week, but when you have some free time next week, here's an exhaustive list of a wide variety of Passover videos. I highly recommend the Technion students' Rube Goldberg Passover Machine, first one for 2015.

Posted by at 10:24 PM | Comments (1)
March 31, 2015
For all you geeks, engineers, and wanna-bees, enjoy this Rube Goldberg Pesach video from the students at Technion in Haifa, Israel.
Posted by at 06:36 PM | Comments (0)
March 27, 2015
My third unique Boston experience was a visit to The Rashi School , a Reform K-8 religious day school. I'd heard about the school years ago and loved the idea that the Reform movement would name their days schools after Rashi. In a bashert turn of events, my cousin Sharon Antonoff Miller, daughter of the cousins I was staying with, is a teacher there. She was eager to have me visit, and again it was bashert that I not only had an entire morning free on Monday, but the weather was clear and sunny.
So it was arranged. I visited several classrooms, each of which had student ambassadors who explained to guests what their class was studying. The middle-school children were at Tefillah, which being Monday, included a Torah service. Often, when the week celebrates an upcoming Bnai Mitzvah, the child leads services and reads from Torah at school first – sort of a dress rehersal.
I was particularly impressed with the art, music, & science classes, but what impressed me most were the enormous snowdrifts outside.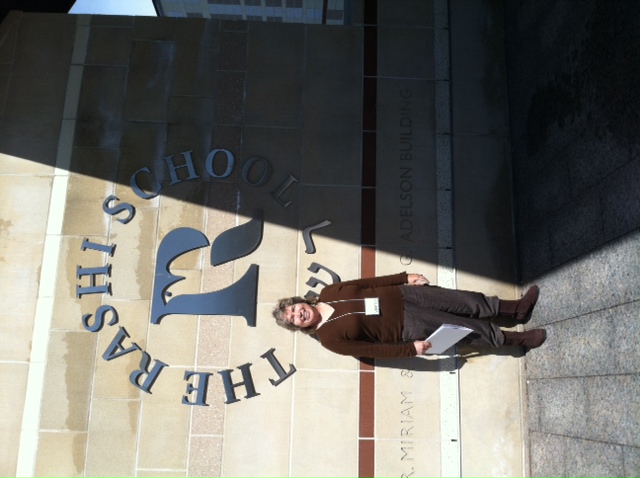 Posted by at 11:19 AM | Comments (0)
March 25, 2015
Now for the second experience, for which I benched gomel at synagogue when I got home. Last Sunday I spoke at the Northeast Hadassah Region conference and by the time I finished it was snowing lightly. I had a dinner date with a friend, Sue Weiss, who used to live in Glendale when I did years ago, although she's lived in Boston for seven years now. She is a recent widow, whom I hadn't seen since her husband's funeral. Because of the weather she suggested a restaurant in an indoor mall, which also gave us time to walk around first without freezing.
It was snowing harder when we left, and Sue admitted that the rare times they needed to drive in the snow, her husband Ken always drove. She still missed him terribly but what could she do? He was gone and she was still here. On our way back to my cousins in Lexington, we were coming over a hill on Route 2A when we saw a car stopped at the bottom at a T-intersection. Sue hit the breaks, our car went into a skid, and she managed to swerve around the stopped car and turn right onto the highway. Thank Heaven no cars were coming up the hill or going in our direction on the highway. I had some moments of terror thinking that she'd end up meeting her late husband and I'd be in the hospital.
Finally she was able to slow down, pull over and park until we could catch our breaths. A few minutes later we were in my cousins' driveway, and soon after the snow changed to rain. Still I gave a big sigh of relief when she called me 45 minutes later to report that she was home safely. And the next day I saw in the news that Boston had received enough snow [3 inches] that afternoon to make the record for snowiest winter on record. I'll take Los Angeles's winter record for heat, thank you.

Posted by at 01:32 PM | Comments (0)
March 22, 2015
I am thankful to be back home after a short, but stressful, book trip to snowy New England. Of course I caught a cold, which was in full bloom the day I returned, and now I'm finally rested enough to blog about the trip. I had three unique experiences in the Boston area, which did acquire enough new snow to reach the record during my visit. Here's the first:
I was fortunate to stay with cousins in Lexington, delightful people who live in a large 100-year-old house and subscribe to three newspapers. Thus I was reading the Sunday NY Times opinion section over breakfast when I saw an article titled Childless by Choice that made me breifly forget to swallow my mouthful of eggs. It was written by author Michelle Huneven, who along with her husband, are members of my synagogue in Los Angeles. We've been friends with her husband for over 15 years, and with both of them since they married.
But the piece was a very intimate account of her journey to her "present contentment" that detailed painful aspects of her earlier years that, despite our friendship, I never knew. I realized that I was reading a very public article – it was the Sunday NY Times after all – yet I felt guilty as if I'd stumbled upon her diary and was reading it in stealth. And what should I say when I saw her husband, which I expected I would, at Shabbat minyan?
That was yesterday. I got up my nerve and told him I'd read the article and was impressed by both her honesty and courage. I asked how he felt about having such typically private details exposed so publically. Of course they'd discussed it, and he'd agreed to the wider exposure of a longer article she'd written for an earlier anthology. Still, they kept it somewhat quiet, neither one linking to it on their Facebook pages for example.
But most of my FB friends and fans who read my blog don't know them, and it was in the NY Times for Heaven's sake. And she has a new novel out that I'd like to help publicize. So if you're curious, here is the link
Posted by at 09:49 PM | Comments (0)
March 11, 2015
This Friday I'm catching another early plane ride, this time to Boston for the start of a mini [5-day] New England book tour. I've been watching the weather reports for the last month with trepidation as one snowstorm after another blasts the region. Now it looks like after a mild flirtation with Spring, cold weather is coming back to Boston just as I arrive in town, maybe even adding the small amount of snow they need to break the record for snowiest winter ever. Just what I need – schlepping cases of books through sleet and freezing rain.
For those who want to come hear me, here's where you can do it:
March 13 - 7:30 pm. Cong B'nai Shalom, 117 E Main St, Westborough MA 01581
March 15 - 9:30 am to 3:30 pm. Hadassah Northeast Women's Empowerment Conference Bentley Univ Conference Center, 175 Forest St, Waltham MA 02452.
March 16 - 7 pm. Temple Emanuel, 7 Haggetts Pond Rd, Andover MA 01810
March 17 - 11 am. Luncheon at Greater New Haven JCC, 360 Amity Rd, Woodbridge CT 06525.
Meanwhile the Los Angeles weather forecast also calls for extremes; only here it will be hot, with weekend highs in the 90's.

Posted by at 10:41 PM | Comments (2)
March 06, 2015
Almost a year ago my webmistress sent me a link to the beta version of my website, updated to include my soon-to-be-published novel Enchantress. Disappointingly, the description was neither compelling nor accurate. My dismay turned to horror when I learned that she'd merely copied it from Amazon.
Thus began my voyage of discovery into what makes a great Amazon description, and why it's so important, indeed vital, to have one. What I learned was not only surprising, but seemingly unknown to everyone I knew in the publishing biz: editors, agents, publicists, and of course, authors themselves. My publisher thought I should write about this for PW: Publisher's Weekly, a news magazine about the book business published continuously since 1872.
Thus my Penguin publicist submitted my article "The Most Important 130 Words and Author [or Publisher] can Write" for the Soapbox section of PW in June. We heard nothing until January, when just as I was considering where else to submit it, PW emailed that they'd be publishing it in a week and I should sign the attached contract.
Since I've hopefully made you curious, click here for the online version.

Posted by at 01:13 PM | Comments (0)
March 03, 2015
As a Driven Leaf by Milton Steinberg

My rating: 4 of 5 stars


I first read this novel before I studied Talmud, so I didn't realize it was based on actual Jewish texts. I was fascinated by Steinberg's descriptions of life in Roman Palestine, especially how the Jews lived, since there wasn't any other Jewish historical fiction from this time period. I wasn't so happy with the ending, never quite understanding why Elisha had to completely reject his religion when he couldn't reconcile it with Hellenism.

Later, when I studied the Gemara where his story appeared, I was even less happy. The Talmud is quite clear that Elisha ascends to Paradise with Rabbi Akiva and their 2 younger colleagues, and that all except Akiva are traumatized by the experience, Elisha so much that he becomes an apostate. Yet Steinberg leaves this crucial scene out of "As a Driven Leaf" so we never understand what set Elisha on his difficult path.



View all my reviews

Posted by at 09:55 PM | Comments (0)
March 01, 2015
Leonard Nimoy was buried today most likely at Hillside Cemetery, which is associated with Temple Israel of Hollywood, where Leonard and Susan Nimoy worshipped and where Susan's cousin, John Rosove, is the rabbi. After reviewing all the FB posts and newspaper articles memorializing the Star Trek star, I realize that I seem to be one of the rare female original fans of the SciFi TV show. Indeed, its short run from 1966-69 coincided with my prime teenage TV-watching years. Of course I was also one of the rare female physical science majors at UCLA, where my Star Trek appreciation gave me something in common with my male classmates.
It was years later when I realized that Nimoy was Jewish, one of the few [to me anyway] Jewish actors who wasn't also a comedian. It was a secret delight to learn that the hand signal accompanying his Vulcan greeting [Live Long and Prosper] was actually the Priestly Benediction from Torah, Numbers 6:23-27. Here's a NY Times video where Leonard Nimoy explains how he came up with the idea.
One of Nimoy's less known artistic endeavors was a series of photos of women and tefillin. Ten years ago, Moment Magazine interviewed him about this, where he states that Rashi's daughter wore tefillin. What the article doesn't mention is that he knew this because I spoke at Temple Israel way back then and his wife Susan bought a 'hot-off-the-presses' copy of my new historical novel, "Rashi's Daughters: Joheved". She asked me to inscribe it to him and I did so with the dedication "Live Long and Prosper," a memory that mortifies me still even today. If you want to read that Moment interview, here's the link.

Posted by at 08:30 PM | Comments (0)