August 20, 2015
Unorthodox: The Scandalous Rejection of my Hasidic Roots by Deborah Feldman

My rating: 3 of 5 stars


This is not the first OTD [Off the Derech] story I've read, so seeing how the Satmar and other ultra-Orthodox women live wasn't so shocking. Deborah Feldman is an excellent writer, but after she was married it seems like all we hear about is her abysmal sex life. When she finally does get divorced, there's nothing about how she managed to keep her son - which she led us to believe would be incredibly difficult. Also no word on how she manages to support herself and her son while attending college; there's only a tiny thanks to her mother in the epilogue for this. Or maybe she's living on a big advance from her publisher. If she and her mother did reconcile, at least enough that she has her mother's support, I think leaving out this critically important part of her life is a disservice to her readers.



In general, I donít understand the interest, bordering on obsession, in ultra-Orthodox Judaism. The number of articles and books about these sects are way out of proportion to their status as a tiny minority of American Jews. Even worse, it seems that quite a number of non-Jews and secular Jews think these cults are the true version of Judaism, viewing the rest of us as lazy or inauthentic.
Posted by at 09:22 AM | Comments (0)
August 19, 2015
The War on Women in Israel: How Religious Radicalism Is Smothering the Voice of a Nation by Elana Maryles Sztokman

My rating: 5 of 5 stars


I gave this book 5 stars not because I loved it but because Goodreads defines 5-stars as "really amazing," which this one certainly is. However as important as I think it is for people [especially women and Jews] to read this book, I must admit that reading it was hard. So many times I just wanted to scream with anger and frustration. Mostly I just wanted to cry at what appears to be a lost cause in Israel, a country I so wanted/hoped to be a light unto the nations. Kol kavod to Sztokman and her fellow feminist warriors at how they fight the good fight, with hope in their hearts. But I don't see anything changing in Israel. As Lord Acton said, "Power tends to corrupt, and absolute power corrupts absolutely" and sadly this applies even/especially to the most religious.



View all my reviews

Posted by at 01:58 PM | Comments (1)
July 31, 2015
Short but bashert finale to my gig as scholar-in-residence, expert on ancient Jewish sorceresses, at the Kohenet Institute retreat. I come home, start checking the mail and news I missed, and find an article in the NY Times Magazine, about modern Jewish amulets. Here Iíve been lecturing for over two years that ancient Jewish magic is still with us today, and here comes proof from the New York Times.

Posted by at 01:19 PM | Comments (0)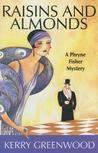 Raisins and Almonds by Kerry Greenwood

My rating: 5 of 5 stars


I found this Miss Fisher Mystery novel even better than the TV version, which left out the subplot of young Zionist men trying to raise money to run guns to 1920's Palestine to establish a Jewish homeland [not PC these days in Australia, I guess]. The author definitely did her Jewish history homework; she also taught me a lot with the various Kabbalah/alchemy texts Phryne studied in order to find the murderer. I thought Kerry Greenwood did a great job with all the Jewish secondary characters, capturing their speech patterns sprinkled with just enough Yiddish words to identify their ethnicity but never straying into caricatures or antisemitic stereotypes. The plot hung together well, and I loved how clever Phryne identified the spy among the Zionists at the very end [no spoiler alert here - you'll need to read it]. Unlike other Miss Fisher Mysteries, Raisins and Almonds had a bibliography and glossary of Yiddish words in the back. Of course there's a new lover for Phryne, a nice Jewish boy too.



View all my reviews

Posted by at 09:24 AM | Comments (0)
July 29, 2015
I am Forbidden by Anouk Markovits

My rating: 2 of 5 stars


Read it quickly and was more than disappointed. I wanted to learn about Hasidic life and while the characters were indeed ultra-Orthodox, their story was horrific. Begins with children watching while Nazis slaughter their families, then more anxiety and suffering until they grow up and marry, followed by adultery with more angst and despair, and then [spoiler alert] the grand finale of two suicides. Sure the writing was excellent, which only made this book more nightmare producing. IMHO - I can read plenty of terrible things everyday in the news, so when I read fiction I want to be uplifted, not depressed. Life is too short to read novels that don't giive me a happy, or at least satisfying, ending.



View all my reviews

Posted by at 01:22 PM | Comments (0)
July 28, 2015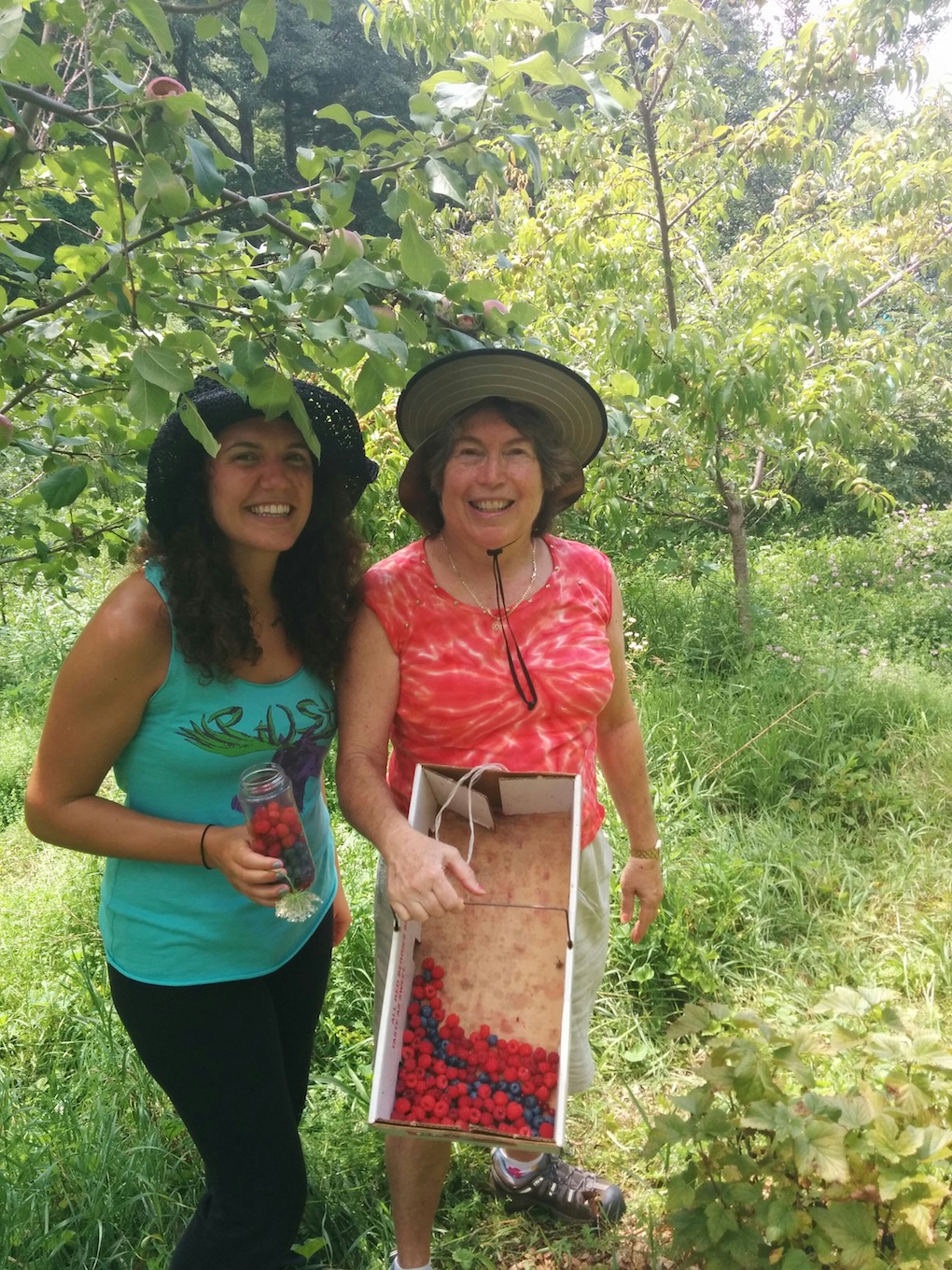 Monday morning I had time between the final activities reserved for the Kohenet women, so I decided to hike the one trail that Iíd hadnít trod yet, a rather steep ascent through a mixed fir and aspen forest. It had rained gently during the night and an impressive array of mushrooms greeted me Ė large flat yellow disks, tiny orange cups, medium-sized red and white speckled saucers, plus an assortment of beigish-grey fungi growing both from the dirt and on the trees. Unfortunately there was also an assortment of mosquitoes forcing me to walk faster than I would have liked, but a refreshing dip in the lake revived me.
There was still a little time left before lunch so I grabbed a plastic cup and headed to the farm for a final chance to pick raspberries for desert. Such deliciousness, following pasta with pesto made from farm-fresh basil and garlic was a sweet way to end my nearly six-day Kohenet Institute retreat. Check out this photo of me & one of the farmhands showing off our berry bounty; plus a link to the farmís website.
Posted by at 05:54 PM | Comments (0)
July 27, 2015
Tisha bíAv at Isabella Freedman was unique, fascinating, and intense. The group sat on the group in a large darkened room with wood floors. In the center was a circle of perhaps 100 different sized stones, ranging in size from tiny to almost to big to lift, some carefully stacked on each other. We were told to imagine this as Jerusalem, and during the chanting of Eicha [Lamentations], to come knock the stones over and move them to other parts of the room. Some people picked them up, others kicked them, a few noisily threw them on the floor. Those who were knowledgeable arranged them into smaller circles. Thus we symbolically destroyed Jerusalem, went into exile, and settled/built new cities. Then, as the ritual ended, we were invited to choose a particular stone, remove it from its place, and guard it until Tisha bíAv was over.
Sunday morning I led a hands-on workshop to make individual incantation bowls. First I taught about the 4th-century Babylonian Jewish sorceresses who inscribed these to protect their clients from demons and the Evil Eye, considered the source of illness and misfortune. Then each person got a unglazed ceramic bowl and I provided a handout detailing four spells they could adapt for their own bowl. Paint, markers & various writing implements were available and the women had at it with great enthusiasm.
Sunday night we brought back our stones and built a new circle, which actually ended up heart-shaped. Some piled up stones to symbolize structures, and soon there was a new Jerusalem rising.
Posted by at 10:26 AM | Comments (0)
July 25, 2015
I was hoping to get in another post before Shabbat, there was too much going on to find the time. Thursday night was when things first got weird/interesting. A big, if not the biggest, part of Kohenet Institute is the Friday afternoon smicha/ordination of the new Hebrew Priestesses, who have spent at least 4 years studying and training for this. Thursday is when we celebrated the ordainees with wild music, drumming, and dancing on the eve of their big day. I came of a age in the sixties, so Iím familiar with how hippie women typically dressed in colorful flowing robes/gowns. That was the predominant style, but there were also black cocktail dresses, tie-dyed shirts, and one woman in a sequined two-piece bra top and matching tap pants. The band can best described as klezmeresque, since it contained two fiddles and a clarinet among its musicians. Dancing was wild, almost ecstatic, and having to get up early Friday to give a talk in Great Barrington, I went to bed while the festivities continued.
When I had at least an hour free on Friday and Saturday, I would venture out onto one of the hiking trails, each marked with a specific color. Since the Center is next to a lake, except for the red Lakeside Trail, the others go uphill, sometimes quite steeply. I found one, the blue Selah Trail, that turned into the forest partway up and that became my favorite. It was not heavily traveled and if not for the blue markings on trees, following the trail would be impossible. Indeed, I veered off several times and had to backtrack to find my way. My favorite was a combination of the red and blue trails, and on Saturday morning I was pleasantly surprised to find two men in kippot camping near the lake and singing Shabbat melodies. I later recognized them in our dining hall.
Speaking of dining, as part of our Shabbat dinner there was such an excellent butternut squash soup that I ate it for desert too. My main complaint about the food is the lack of chocolate. I didnít appreciate the davening either; it was too new-agey for my taste. There was so much feminizing of the Hebrew that I stumbled over prayers that normally roll easily from my mouth. Also nearly every song was accompanied by drumming, leaving me with a headache when we got to the Torah Service. Still, like Shabbat at Jewish camp, we were encouraged to dress in white, and while walking around outdoors I came across several people playing guitars.
Hereís a photo of me with the two others scholars here at Kohenet Ė Rabbis Rayzel Raphael and Leah Novick.

Posted by at 07:14 PM | Comments (0)
July 23, 2015
Iíve now spent 23 hours at the Isabella Freedman Jewish Retreat Center. Iíve enjoyed 3 meals & I do mean enjoyed. The menus are dairy-vegetarian, with much of the produce coming from their own farm [more on the farm in my next post]. Lots of organic and gluten-free foods, and the kitchen is kosher with its own live-in mashgiach.
As you can see on the map from the link below, the setting is magnificently bucolic as only summer in the Berkshires can be. I arrived yesterday just in time for dinner, and it was still light enough afterwards that I took a hike around the main lake. When it got dark there was a class by one of the resident rabbis on Jewish astronomy. He set up a large telescope, and in between discussions of Genesis Chapter One, we observed the sky in such detail that the moonís craters and Saturnís rings were clearly visible.
Having caught a 6 am flight from LA, I had no trouble going to sleep at 10pm. I woke next morning at 8:30 to birdsong and what I can only describe as the smell of summer camp Ė combination of fir trees and clean mountain air. I went on an aerobic uphill hike in the forest, coming down to a lecture on ďWise Women in the TorahĒ where we learned about Chochma [Wisdom] in various Proverbs and the human wise women who appear in various prophetic books. Apparently many towns in Israel had resident ďwise womenĒ who gave advice and solved problems.
After lunch, I joined a berry-picking group at the farm to collect ripe raspberries, blueberries, gooseberries, plus black and red currants. With great restraint, I brought back more than I ate. After that hot & sweaty work, a bunch of us women went skinny-dipping in the big lake. What a delightful experience; the water was just warm enough to not be a shock and just cool enough to be refreshing. I had hoped to swim in the pool, but from now on itís the lake for me.

Posted by at 02:32 PM | Comments (0)
July 21, 2015
Kohenet: The Hebrew Priestess Institute takes place at the rustic Isabella Freedman Jewish Retreat Center in Falls Village, CT. Incorporated in 1893, the center was established as a summer camp offering Jewish working women, primarily immigrants in the New York garment industry, an affordable vacation in the Berkshires. The Kohenet retreat is sponsored by Hazon and the Elat Chayim Center for Jewish Spirituality, which invites women to explore and experience and celebrate the Divine Feminine in Judaism with a learning and ritual extravaganza.
So Iím going away to summer camp for 5 days. Like many rural camps thereís a swimming pool and lake, only this one has a mikvah too [in the lake]. There are hiking trails, rustic cabins, arts & crafts, and group dining. There is also a full schedule of priestess activities, with lots of lectures and other programs. Thankfully I am not training to become a Hebrew priestess and thus can attend as many, or as few, as I want. Personally I look forward to hiking, swimming, and maybe some canoeing or kayaking. I also look forward to meeting some very interesting women and making some new friends.

Posted by at 04:17 PM | Comments (0)
July 18, 2015
Last summer when I sent out the e-blasts announcing Enchantress, a woman replied that I should look into something called the Kohenet Hebrew Priestess Institute, that the ancient Jewish magic Iíd researched and written about was right up their alley. She was right. According to their website [see link below], they facilitate the creation of transformative Jewish ritual that is earth-based, feminist, and inspired by traditions of womenís spiritual leadership by drawing on ancient Israelite sources, Jewish texts and folklore, kabbalah and contemporary creativity.
Iíd never heard of such a group, and frankly was a bit skeptical of anyone ordaining ďHebrew priestessesĒ in the 21st century. I admit Iím not into new-age spirituality. I study Talmud; I donít do meditation, drum circles, or kabbalah. But I was intrigued enough to investigate further.

Founded by rabbis Jill Hammer and Taya Shere, Kohenetís mission is to revive and re-embody Judaism through the gifts of women spiritual leaders and through experience of the sacred feminine, whom we call Shekhinah, Goddess, and many other names. They teach the history of women as facilitators of spiritual experience. They hold two retreats a year where they train students. Since 2006, they have ordained twenty-eight women as kohanot, Hebrew priestesses. Some were rabbis, some distant from Jewish practice until they came to the Kohenet Institute.
These were women who would surely appreciate what Iíve learned about the surprising prominence of Jewish sorceresses in fourth-century Babylonia. So I emailed their leaders and to my surprise, I received a handsome offer to be a scholar-in-residence at their Summer 2015 retreat in the Berkshires. I decided not to blog about this until I was actually doing it, and since Iím flying out there on Wednesday, I figured it was time to start. More on my Kohenet experience to follow.

Posted by at 11:25 PM | Comments (0)
July 17, 2015
Ruddy Gore by Kerry Greenwood

My rating: 4 of 5 stars


I actually went back and watched the TV version, and I have to admit that, except for missing Inspector Robinson, I liked the book better. The plot hung together more and I appreciated how the book dealt with the racism and criticism from both sides when Phyrne gets together with her Chinese lover Mr. Lin. This time there were few distracting subplots and I enjoyed learning about the musical theatre world [I admit being a G&S fan, although not necessarily of "Ruddigore"].



View all my reviews

Posted by at 01:36 PM | Comments (0)