August 10, 2022
Zero Fail: The Rise and Fall of the Secret Service by Carol Leonnig
My rating: 4 of 5 stars
Zero Fail: The Rise and Fall of the Secret Service is not a book you read for pleasure; rather for information and to be stirred up for action. I was in middle school when JFK was killed and I still remember the announcement coming over the PA. I was in college when RFK was killed, and was actually at the Ambassador Hotel celebrating when we got the news. So I knew about the obvious Secret Service failures when our leaders were shot, but not exactly how they failed until I read this book. All the other near-miss failures were a big eye-opener, as well as how certain presidents managed to sneak out for extramarital relations without hindrance.

I thought the worst, which got worse as time passed, was the frat-house behavior: so much drinking, carousing, and misogyny. Not to mention the old-boys network that kept promoting the unqualified. It made me sad and disgusted at how much money was wasted, how poorly the lower level staff are treated, and how incompetent and politicized the Secret Service has become. But maybe there's hope that this book will convince whosever in charge to clean things up.
Posted by at 05:57 PM | Comments (0)
August 09, 2022
Can't We Talk about Something More Pleasant? by Roz Chast
My rating: 4 of 5 stars
I was so involved in compiling my Rhine River trip memories, and finally getting them posted, that I just noticed that I hadn't done a review of Can't We Talk about Something More Pleasant? even though it was one of the first books I read during that time. I'm a big fan of Roz Chast's "New Yorker" cartoons, but knowing the subject matter, I was reluctant to read this book. Perhaps not writing a review was a Freudian slip-up because I found the graphic novel so difficult, owing to it bringing back memories of my parents' old age and deaths. Particularly of my mother, who declined with Alzheimer's for seven years before ultimately dying in a nursing home. So many of Chast's cartoons and comments are spot-on descriptions of elderly Jewish life, and while many are funny, others are sad and frightening—especially for those of us contemplating our own eventual demise. As the Talmud teaches about unpleasant subjects, "This too is Torah and I must learn from it." Although in this case, much of the learning is pleasurable too.
View all my reviews

Posted by at 03:13 PM | Comments (0)
August 07, 2022
As usual for Grafton's murder mysteries, there are lots of interesting characters/suspects/liars and great descriptions of people and places in "I is for Innocent." Also that there are more suspicious deaths in addition to the murder that started the whole thing. Kinsey is hired by the victim's ex-husband to find evidence to prove that the victim's current husband, who was found not guilty of her murder in court, did actually kill her. But Kinsey only turns up exonerating witnesses, so now she must find the real murder. True to form Grafton ends the final chapter with a showdown between Kinsey and the killer. I'm not going to spoil the surprise by naming the killer, but it's a definitely a surprise. I found all the different characters, some of whom didn't seem to have a good motive and were needed to merely provide sufficient suspects, unwieldy. So only 4-stars.
Posted by at 01:22 PM | Comments (0)
August 04, 2022
H is for Homicide by Sue Grafton
My rating: 5 of 5 stars
An even more thrilling Kinsey Millhone mystery than #7, "G is for Gumshoe". I was continually at the edge of my seat, worried that her cover would be blown, leaving her at the mercy of the goons she was tailing. But the tension only heightened as she infiltrated into the heart of their operations, where one false move and she'd be as dead as the cop whose murder, and her determination to catch his killers, got her into this sticky situation. Finally I couldn't stand the suspense and did something I'm ashamed to admit--I read the last page. Of course Kinsey was still among the living; after all, there were still I, J, K, etc novels for her to star in. But what an ending! That's why I gave H is for Homicide 5 stars. View all my reviews

Posted by at 10:27 PM | Comments (0)
August 03, 2022
G is for Gumshoe by Sue Grafton
My rating: 4 of 5 stars
I liked this 6th volume in Sue Grafton's Alphabet Mysteries as much or more than her early stories. Instead of working to solve some random murder, Kinsey Millhome suddenly needs to prevent her own. And to help protect her is a bodyguard who's just a tough as she is. I couldn't wait for the sparks to fly, and indeed they did (view spoiler)[ some readers have complained about the sex scene, but I though it was very nicely done, maybe a little on the tame side even (hide spoiler)]. I thought the beginning was a little too slow, then things veered off into the bizarre, and the final chapters went by so fast I had to reread them to make sure I understood it all. The plot reminded me of the movie "Three Faces of Eve" and I appreciate how these books mainly addressed women's issues and lives.
View all my reviews

Posted by at 05:02 PM | Comments (0)
August 02, 2022
Murder on the Prowl by Rita Mae Brown
My rating: 4 of 5 stars
"Murder on the Prowl (Mrs. Murphy, #6) by Rita Mae Brown" is my favorite Mrs. Murphy mystery so far. I loved how the animals bantered with each other while trying to solve the crime. They were so much more hands-on this time and I enjoyed the efforts they went through to get the lowly humans to follow their leads. They were delightful and I think this has been their best role yet. The plot was well thought-out, Harry's first involving children, albeit high school students. But I was surprised by who did it and why. In retrospect it should have been obvious (view spoiler)[ that child sexual abuse was involved (hide spoiler)], but that's the point of a good murder mystery.
View all my reviews

Posted by at 01:51 PM | Comments (0)
August 01, 2022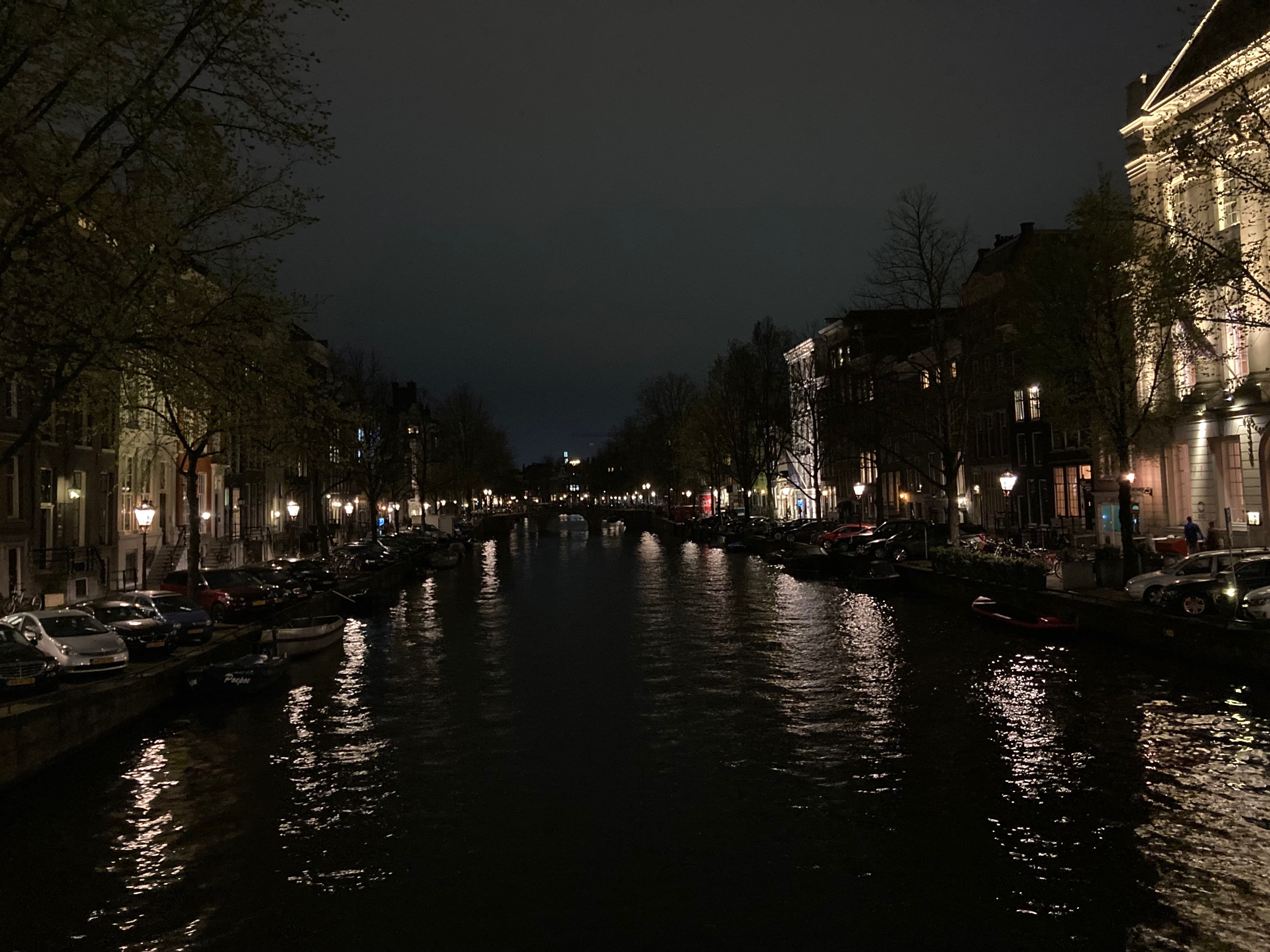 Day 15. It was still raining when our taxi picked us up for the 30 minute ride to Schiphol Airport. We checked in for our flight without incident, and had breakfast in one of the many uninteresting places to eat there. Unlike our initial flight, which left at night and gave us 10 hours to sleep on the plane before our layover in London, this one left in the morning and arrived for our layover in Philadelphia after only five hours, one hour of which we were served lunch. No offense to Philly, but waiting in long lines to get our luggage, go through customs and then through security, was exhausting. I couldn't wait to get on the plane to LA and sleep. But although our other flights were Premium Economy class, this last one was regular Economy. So of course, I couldn't sleep, but at least they fed us. We finally got home at 8 pm, which would have been 5 am the next day in Amsterdam, and I slept for ten hours. The next time I'm going overseas, I'm going to make sure any long flights are scheduled for overnight. I leave you with two of my favorite photos.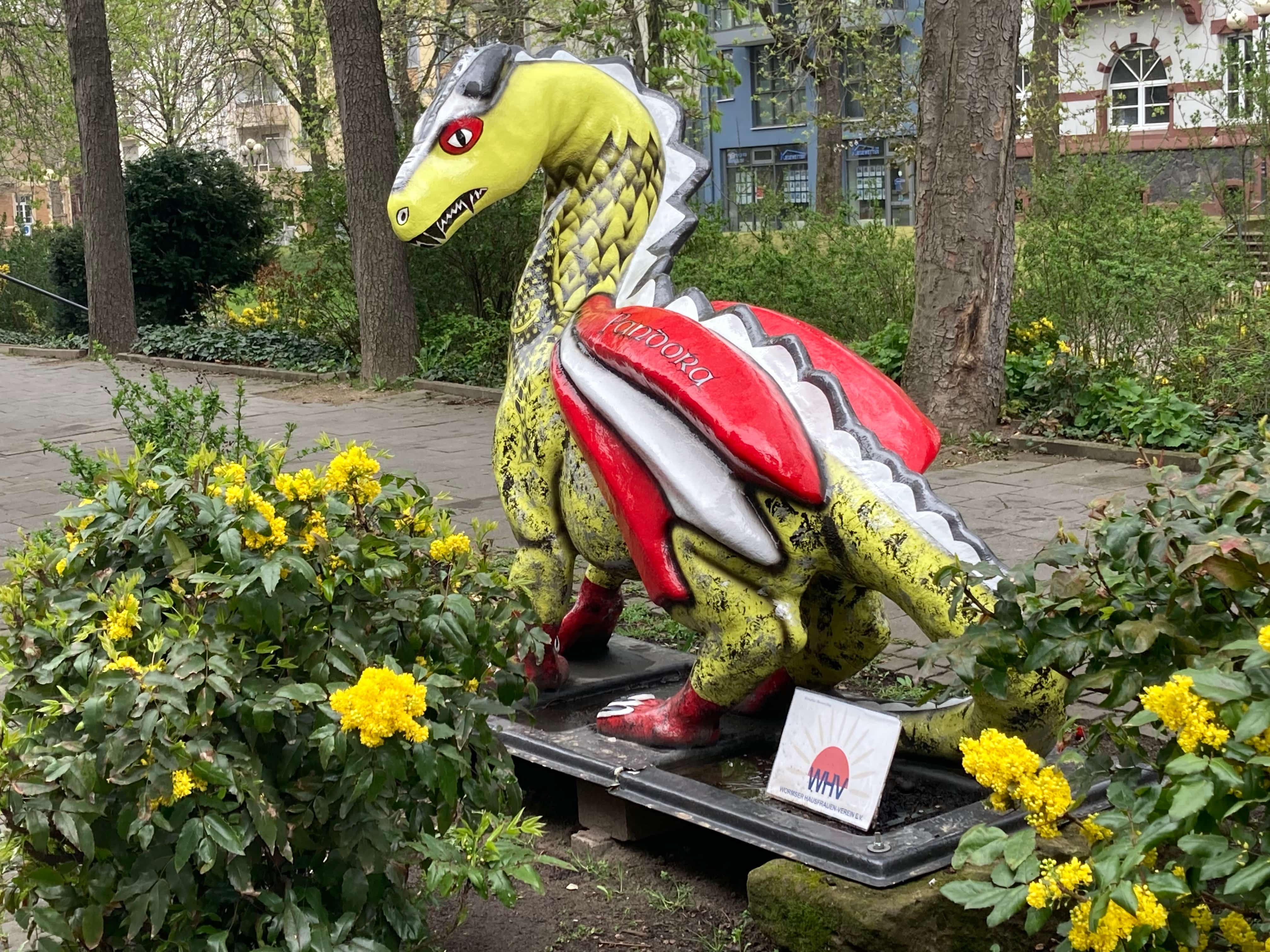 Posted by at 03:07 PM | Comments (0)
July 31, 2022
Day 14.2 We then walked west along the Herengracht to the Willet-Holthuysen House Museum. The mansion was built for the mayor of Amsterdam around 1685. In 1895, its owner, Louisa Holthuysen, bequeathed the building and its contents, including the art collected by her and her husband, Abraham Willet, to the city of Amsterdam on condition that it became a museum bearing their names. The double mansion contains many period rooms, which were the perfect way for the couple to share their taste and wealth with others. Its beautiful salons are in the style of Louis XIV, and the garden is symmetrically designed as a French formal garden.
From there it was only a few blocks up the canal to the delightful Kattenkabinet, an art museum devoted to works depicting cats. The museum collection includes paintings, drawings, posters, sculptures and other works by Rembrandt, Toulouse-Lautrec, Corneille, Sal Meijer, Théophile Steinlen, and Jože Ciuha, among others. The museum is housed in a building in the grand Gouden Bocht ("Golden Bend") of the [[Herengract]] Herengracht. The owner's family lives on the second floor of the building. There are live cats in the museum as well, but we only saw one. The website [https://www.kattenkabinet.nl] offers a virtual tour of the collection and an opportunity to buy replicas of the art. Did we stop in the gift shop? What do you think?
By then it was raining again, so we stopped in for dinner at Café Het Paleis, a casual retro-style canalside eatery, known for burgers, apple pie & hot chocolate. Instead of a burger, we had a hearty soup, plus salad and some excellent warm bread. But we did share some pie. We wanted to linger and people watch from the café's perfect corner location next to a bridge over the canal, but we still had to pack. So it was back to the Hoxton for a good night's sleep and a fond-farewell to Amsterdam the next morning.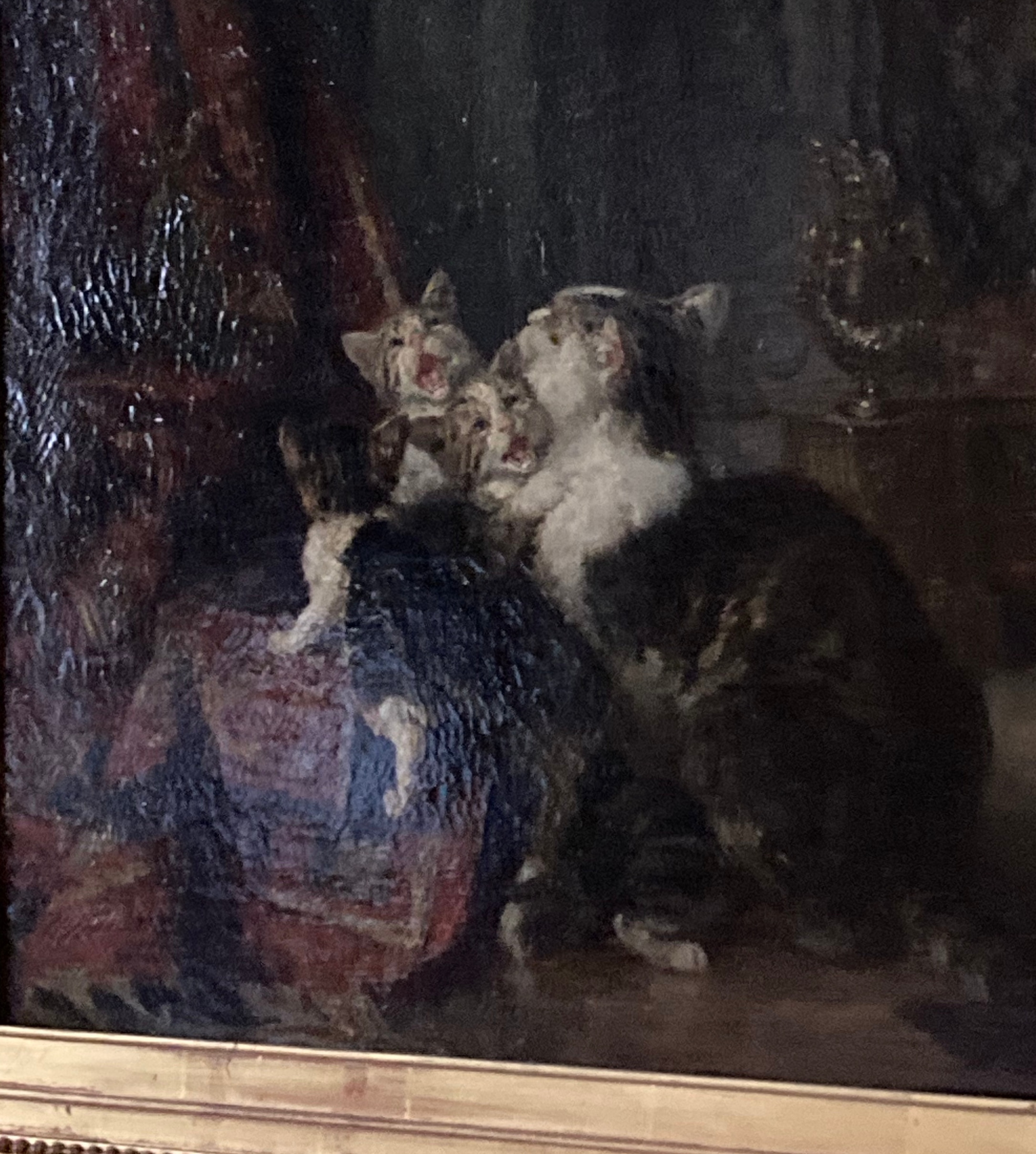 Posted by at 11:16 PM | Comments (0)
July 30, 2022

Day 14.1 Since we had our flight back to the US the following morning, Wednesday, April 6, was our last day in Europe. So we got up early to make the most of it. Again we tried to find a Pancake Amsterdam café with a short line, but gave up and headed for the Homomonument. This icon takes the shape of a pink cement triangle on the bank of the canal. Its three points are symbolic: one corner points towards the National War Memorial on Dam Square; another to the nearby site of the Anne Frank House; while the third corner points towards the headquarters of COC Amsterdam, the Dutch LGBTQ+ rights group. It remains the largest monument in the world dedicated to homosexuality and remembrance.
We never did find a Pancake Amsterdam cafe, but on the way to the Old Jewish Quarter (Jodenbuurt) was Sweet Bakery (see photo) which, along with their amazing pastries, served delicious waffles and crepes with several choices of coffee.
Energized with caffeine and sugar, we walked to the impressive Joods Historisch Museum [https://www.amsterdamsights.com/museums/jhm.html]. Outside is a cobblestone courtyard where more than a few stones have been replaced with Stolpersteine' stumbling stones, 4-inch concrete cubes bearing a metal plate inscribed with the name and life dates of victims of Nazi extermination placed at their last place of residency. Inside the museum, housed in a group of four historical Ashkenazi synagogues, is a permanent exhibition that features the role of religion (including a large beautifully restored sanctuary), the persecution of Jews during the Second World War, plus personal life stories and the mutual influence of Jewish and Dutch culture. Across the street is the magnificent 16th century Portuguese Synagogue, still in use by Sephardi Jews. Now there were two different gift shops to visit, which we didn't leave emptyhanded.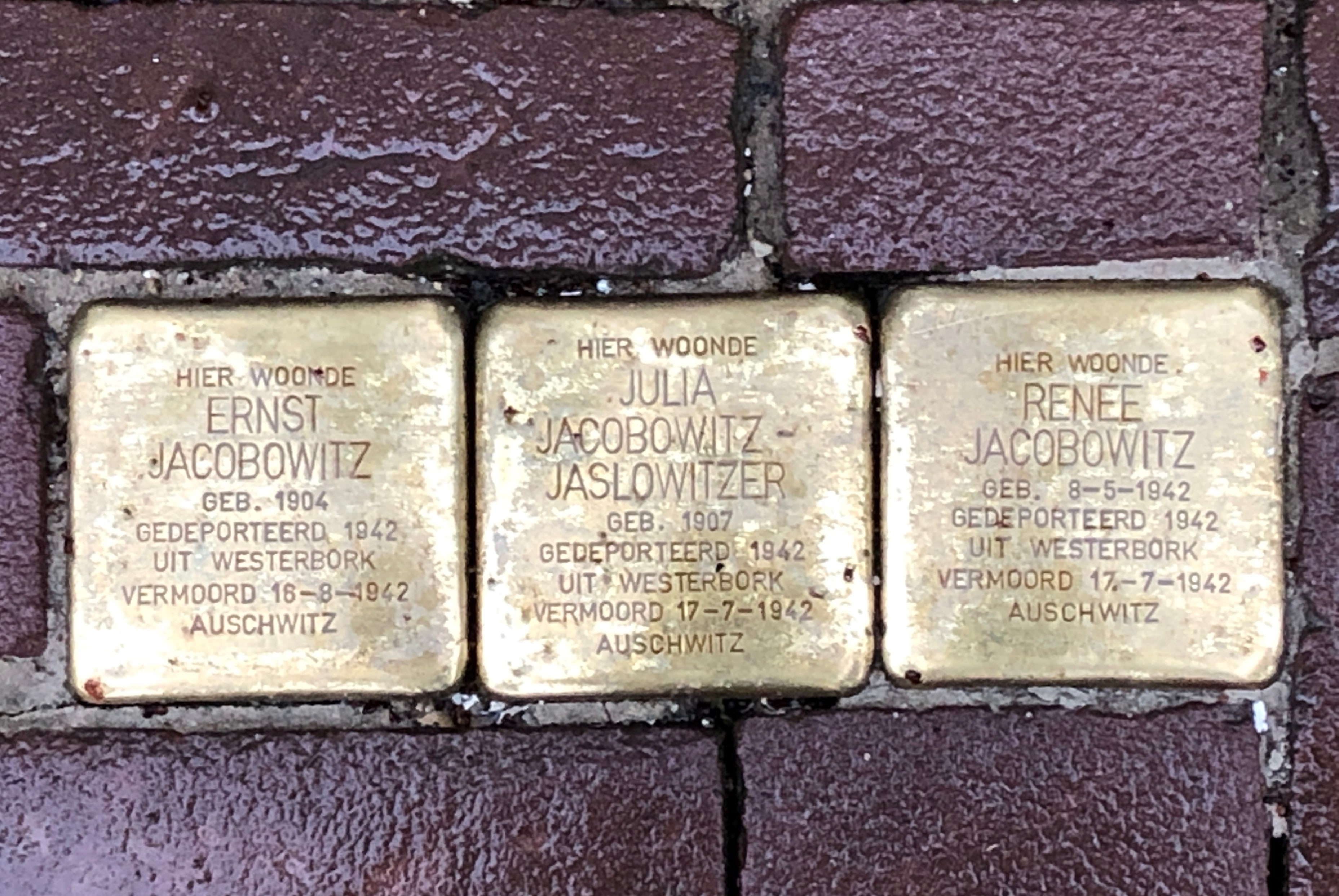 Posted by at 12:10 PM | Comments (0)
July 29, 2022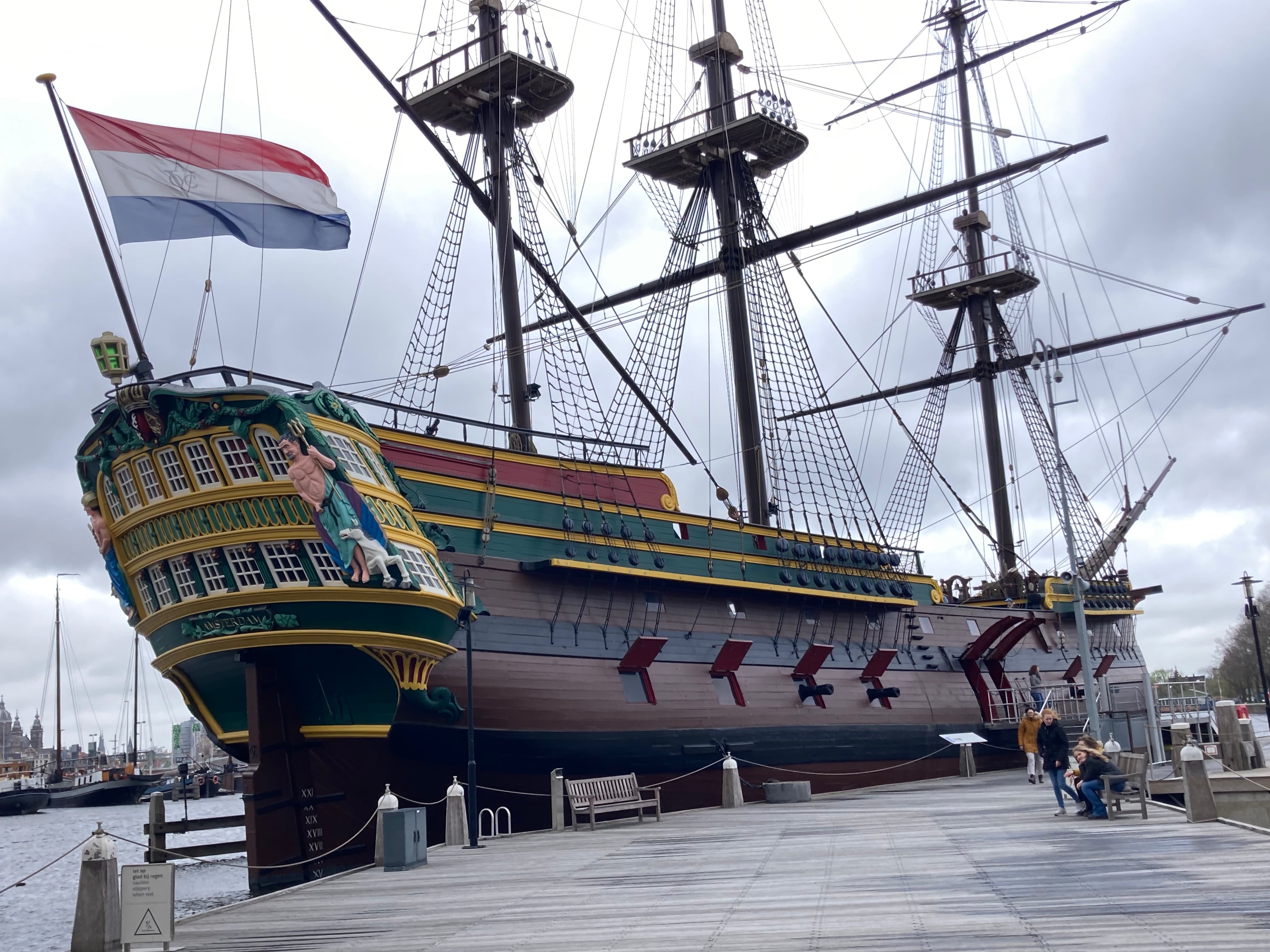 Day 13. April 5 was my husband Dave's birthday. Eager to have breakfast at one of the famous Pancake Amsterdam's eateries, we googled one only a short walk away from the Royal Palace, but when we got there the café line was out the door and the Palace was closed until June; although we could still admire its glorious [[Baroque]] baroque exterior. We thought we'd have pancakes at the next nearest one, on the way to the Maritime Museum [free with IaCC], but its line was even longer. So we ate at the museum's small, but adequate, restaurant. The exhibits were much more than adequate, however. The Het Scheepvaartmuseum (National Maritime Museum) holds one of the world's largest nautical collections, including paintings, ship models, navigation instruments and sea charts. [[The]] There is even a full-sized replica of an East India Trader ship moored to the pier behind the museum that is open for exploration. And in a special storage shed, the Netherlands Royal Barge with its beautiful gold-leaf ornamented exterior.
From there we took the metro [also free with IaCC], to the Rijksmueseum, where I was astonished and impressed at how a new slavery exhibition explores the legacy of colonialism and misleading nature of the term "Dutch Golden Age"—a glittery phrase that obscures a dark truth: many of the republic's wealthiest residents made their fortunes through the enslavement, sale and exploitation of African people. This is made clear in the new yellow wall texts which detail a painting's subjects' involvement in the slave trade. It was horrifying to learn that so many 17th century portraits, including some by Rembrandt and Vermeer, depicting wealthy elites who profited from this enslavement.
For Dave's birthday dinner, we made reservations at the Michelin-starred Restaurant Vinkeles, located a few blocks away on Keizersgracht. I can't recall exactly what we kind of fish we ate for the main course, but the handmade 3-flavor sorbet (I think they were lime, raspberry and carrot) was one of the best I've ever tasted.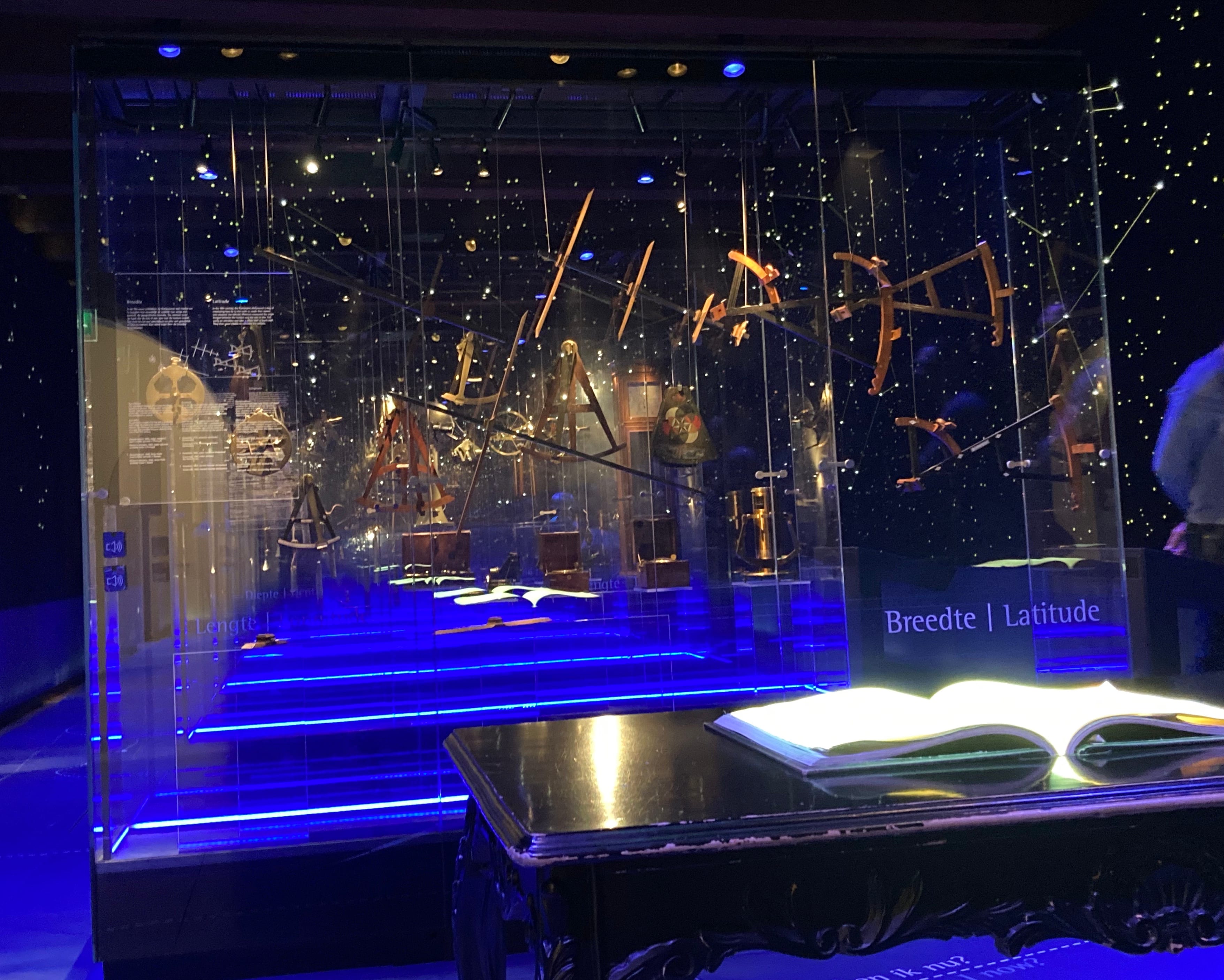 Posted by at 12:47 PM | Comments (0)
July 28, 2022
The next morning, April 4, it was still raining, but nothing was going to prevent us from seeing Keukenhof Gardens, whose world-renowned tulip display is only open to the general public for 8 weeks from mid-March to mid-May. One of the world's largest flower gardens, it covers an area of 32 hectares (79 acres) and is situated 44 km southwest of Amsterdam. According to the official website, approximately 7 million flower bulbs are planted in the gardens annually. For continuous bloom, three bulbs are planted together. The shallowest bulb will bloom first for three weeks, followed by the subsequent layers.
Keukenhof is famous for its many-colored tulips, but it also features other beautiful flowers, including hyacinths, daffodils, lilies, and irises. Weeks earlier, as soon as they were available online, I had bought combined bus-garden entree tickets (nonrefundable) to ensure our attendance. Once we arrived, I realized there were two advantages to visiting during the rain. 1] The overcast skies made the flowers look even more brightly colored, and 2] the park wasn't nearly so crowded as it would have been on a clear day. Thankfully there were multiple large pavilions with more flowers to see indoors, including tropical orchids and cannas. One of them housed a casual restaurant, where we ate a hot lunch. When we'd finally seen the inside of each pavilion in addition to every other part of the garden, we boarded our bus back to Amsterdam. We still needed to take a tram to 'De Negen Straatjes' for our short walk to the Hoxton. By that time it was dark and we were exhausted, so when we saw a large grocery store on the corner, we decided to shop for dinner items as well as for other foodstuffs to have in the room for lunches and snacks. We had bought an I amsterdam City Card (IaCC) valid 48 hours for all sorts of discounts and freebies) earlier and planned to take a night canal cruise that evening, but between the rain and us being tired, that went by the wayside.
Posted by at 03:15 PM | Comments (0)
July 27, 2022
Day 11. Sunday morning April 3, the ship dropped anchor at the De Ruijterkade port in the heart of Amsterdam. After a filling breakfast, we took a taxi to the Hoxton Hotel, centrally located on the Herengracht canal. A few centuries ago, the five canal houses that make up the property used to be home to the Mayor of Amsterdam. Each room is unique, combining 17th century decor with a modern bathroom and discretely hidden refrigerator. Earlier, when I saw the weather report forecasting snow, I excitedly imagined snowflakes gently covering the charming streets with a blanket of white. But it was literally freezing, with a windy mixture of rain, sleet and snow pelting us (and our luggage) from all sides. Under better conditions we would have been eager to explore the surrounding neighborhood known as 'De Negen Straatjes' (The Nine Streets), whose picturesque streets connecting the Singel, Herengracht, Keizersgracht and Prinsengracht canals brim with quirky shops, stylish cafés, galleries and a great historical ambience. By the time we checked in and unpacked, we were hungry and, at our hotel's recommendation, walked a few blocks to Restaurant 't Zwaantje, one of the few city eateries that serves authentic Dutch cuisine. I can't recall what I ate, except that it was good. Now satiated, we walked back by way of the popular De Kaaskamer cheese shop, where we picked up an assortment for breakfast and later.
Posted by at 02:25 PM | Comments (0)