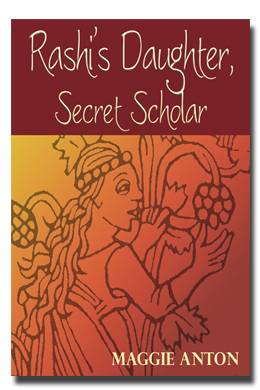 Available from Amazon and Barnes&Noble
[ISBN] 9780827608696
Jewish Publication Society
Available July 2008
Prequel: Secret Scholar

The tale of a young girl who challenges conventions to engage in Jewish learning. This book is intended for readers ages 9-14.
Joheved has a secret…
She is no ordinary girl. Smart and independent, she wants more from the world than what is permitted in 11th century France. Her life changes when her father, Salomon ben Isaac (one day to be known as Rashi, the great Jewish Bible and Talmud commentator), begins secretly teaching her Talmud. But Joheved must keep her passion for learning hidden—even from her betrothed, Meir ben Samuel. How long can she continue her deception and what will happen when, inevitably, her scholarship is out in the open?
"Rashi's Daughter is a richly detailed evocation of a family, a place, and a way of life …. Like honey taken with study, Rashi's Daughter makes learning sweet.
—Karen Cushman, author of The Midwife's Apprentice (Newberry Award Winner) and Catherine, Called Birdy (Newberry Award Finalist).
"Anton paints a picture of Jewish life in medieval France that is compelling and relevant. Although she lived centuries ago, teenage readers will relate to Joheved as she questions her society's expectations, seeks love, and grows into adulthood."
—Deborah Bodin Cohen, rabbi and author of Lilith's Ark: Teenage Tales of Biblical Women (National Jewish Book Award Winner)